Impact of dietary
l

-arginine supply during early gestation on myofiber development in newborn pigs exposed to intra-uterine crowding
Journal of Animal Science and Biotechnology
2017
8:58
Received: 30 November 2016
Accepted: 6 June 2017
Published: 1 July 2017
Keywords
Dietary supplementEarly gestationIntra-uterine growth restrictionMyofiber hyperplasiaNeonateSow prolificacy
Abstract
Background
Intra-uterine crowding (IUC) observed in hyperprolific sows impairs myofiber hyperplasia and overall fetal growth. Arginine supplementation (ARG) in gestation diets has been shown to positively affect litter and muscle development. The study objective was to assess whether the effect of ARG on offspring characteristics, with special emphasis on myofiber hyperplasia, differs under IUC conditions from these responses, because in that situation growth retardation is particularly prevalent due to reduced fetal nutrient supply. Unilateral oviduct ligation (OL) was used as a model for an uncrowded and hyperprolificacy (IN) as a model for a crowded intra-uterine environment.
Methods
Five OL and five IN sows were fed a diet supplemented daily with either 43 g l-alanine (Ctrl) or 25 g l-arginine from d 14 to 28 of gestation in a cross-over design (two periods: 5th and 6th parity). At farrowing, two male and two female offspring, respectively, with a low and intermediate birth weight (BtW) were selected. After euthanization, the Semitendinosus muscle (STM) was removed and weighed, and the light and dark portions (STMd and STMl) were prepared for myofiber histochemistry using ATPase staining and the entire STM for gene expression analysis of myogenesis-related genes using RT-qPCR. In addition, various organs were removed and weighed. Data were analyzed using the MIXED model in SYSTAT.
Results
No effect of either IUC or dietary treatment was found in litter characteristics. Offspring of ARG sows displayed a greater muscle area in STM (P < 0.01) as a result of the greater myofiber hyperplasia (P < 0.01). The increase was more distinct in the STMl (P < 0.05) than in the STMd (P = 0.131). Offspring of OL sows were heavier at birth (P < 0.01), had a heavier STM (P < 0.05), liver (P < 0.01) and kidney (P < 0.05), but when expressed relative to birth weight, these differences were absent. In addition, IUC had an effect (P < 0.05) on the expression of one of the myogenesis-related genes investigated.
Conclusions
Independent from the extent of IUC, ARG improved BtW, muscle and organ weights and myofiber hyperplasia in offspring.
Background
In the last decade, the selection for high prolificacy in modern sow herds has led to a marked increase in litter sizes. One consistent outcome of this strategy was the increasing number of less vital and less mature low birth weight (L-BtW) piglets [1, 2]. In these piglets, prenatal muscle development is impaired [3, 4] as evidenced by the lower myofiber number and the greater number of myofibers still expressing the fetal myosin heavy chain isoform at birth [4]. Compared with their heavier siblings, the lower prenatal myofiber hyperplasia observed in underprivileged piglets has negative consequences on postnatal growth efficiency [5] and lean meat deposition rate [6, 7].
The pig muscle develops in a biphasic manner [
8
] (Fig.
1
). In a first wave from d 35-55 of gestation, an initial population of myoblasts fuse to form primary (P) myofibers. From d 55-90 of gestation, these primary myofibers serve as scaffold for the fusion of a second larger population of myoblasts, the so-called secondary (S) myofibers [
9
,
10
]. As opposed to S myofiber development where crowding of the uterus at early gestation appears to be a compromising factor [
11
], P myofiber number is assumed to be a fixed genetic component, and its development is assumed to be unaffected by conditions occurring in utero [
12
]. However, a recent study showed that hyperplasia of P myofibers was greater in the
Semitendinosus
muscle (STM) of 75-day-old fetuses originating from sows fed a diet supplemented with
l
-arginine from d 14-28 of gestation [
13
]. Because supplementation of
l
-arginine occurred before the start of P myofiber formation, the authors hypothesized that this effect was an indirect effect. Earlier supplementation of
l
-arginine from d 0-14 is not advisable because of its detrimental effect on embryonic survival, which is likely due to reduced progesterone secretion [
14
]. Arginine is a common substrate for nitric oxide and polyamine synthesis [
15
], both of which are key regulators of angiogenesis and placental growth [
16
]. Therefore, an increased dietary arginine supply might improve the fetal nutrient supply [
17
] and ultimately promote myofiber hyperplasia. This mode of action could be interesting especially for offspring from prolific sows suffering from intra-uterine growth retardation (IUGR) due to a crowded intra-uterine environment which impairs placental and, consequently, fetal development.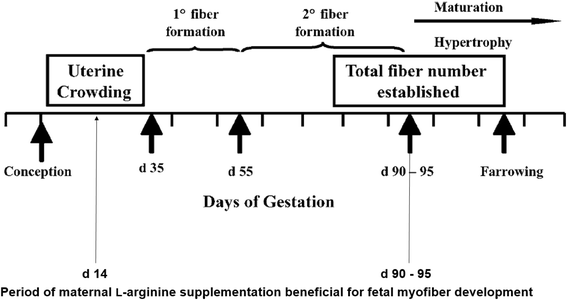 Based on the aforementioned association between dietary arginine supply, the extent of placental vascularization, the fetal nutrient supply and muscle development, it was hypothesized that supplementing l-arginine to an early gestational diet of the dams would promote hyperplasia leading to an increased number of myofibers in their offspring at birth. A second hypothesis tested the theory of whether l-arginine would be especially efficient in piglets suffering from IUGR. Two sow models were established for the present study, one 'non-crowded' and the other 'relatively crowded' simulated by intact (IN) prolific sows. The non-crowded intra-uterine environment was mimicked by using unilaterally oviduct ligated (OL) sows. In these sows, oocytes ovulated from the ovary ipsilateral to the ligated oviduct are prevented from being fertilized and entering the uterus. Therefore, the number of embryos and the extent of crowding in utero is markedly reduced in OL compared with IN sows [13, 17].
Methods
Animals and dietary treatments
The study was conducted as a 2 × 2 crossover design (two periods for each sow in their 5
th
and 6
th
parity). It involved five OL sows originating from a previous experiment of Pardo et al. [
18
] and five prolific IN sows. The five IN sows were siblings to the five OL sows. Except from d 14 to 28 of gestation, the sows were reared from mating to farrowing with other multiparous sows in group pens equipped with an automatic feeder (Compident, Model 2000, Schauer, Prambachkirchen, Austria) and were offered 2.8 kg of a standard gestation diet daily (Table
1
). From d 14 to 28 of gestation, the sows were kept in individual pens. They were randomly allotted to receive daily either 25 g
l
-arginine HCl (ARG), an amount based on the previous findings of Bérard and Bee [
13
], or 43 g
l
-alanine (Ctrl) both as top dressing for 14 d. Alanine was used to compensate for the increased amount of nitrogen in the ARG treatment making the two dietary treatments isonitrogenous.
Table 1
Ingredients and calculated nutrient composition of the gestation diet1
Item

Gestation diet

Ingredients, % as-fed

 Barley

25.0

 Oat

20.0

 Dried sugar beet pulp

14.3

 Wheat bran

10.0

 Soybean meal

5.7

 Dried apple pomace

5.6

 Dried whole maize plant

5.0

 Animal fat (70% lard and 30 % tallow)

3.0

 Linseed meal

2.0

 Potato protein

2.0

 Rapeseed meal

2.0

 Molasses

2.0

 Dicalcium phosphate

1.16

 Calcium carbonate

0.75

 Sodium chloride

0.56

 Pellan2

0.40

 Vitamin-mineral premix3

0.40

 Amino acids4, %

   l-lysine HCl

0.08

   l-threonine

0.06

Calculated composition, % DM

 Dry matter, % of wet weight

88.35

 Total ash

7.20

 Ether extract

6.80

 Crude protein

15.10

 Digestible energy, MJ/kg DM

13.70
Data and tissue sample collection at farrowing
At the end of farrowing, litter characteristics including the number of piglets born alive and stillborn and their individual body weights were recorded. At the day of farrowing, two female and two male piglets per sow per parity were intentionally sacrificed, one with the lowest BtW (L: average ± standard deviation (SD): 1.24 ± 0.30 kg) and one with intermediate BtW (M: average ± STD: 1.49 ± 0.26 kg). Thus, the aim was to include a total of 80 piglets in the study. However, due to unforeseen events at farrowing, the final number was only 70 piglets, which were balanced accordingly between the extent of crowding (38 vs. 32, IN and OL), dietary treatment (36 vs. 34, Ctrl and ARG), BtW (33 vs. 37, L and M), sex (34 vs. 36, male and female), and parity (33 vs. 37, 5th and 6th). Pigs with a BtW of < 800 g were considered runts and were not included in the study. The selected piglets were anaesthetized using an isoflurane-oxygen mixture [4% vol/vol] and subsequently euthanized by exsanguination. Subsequently, the complete Semitendinosus muscle (STM) and Psoas major muscle (PM) were removed and weighed. The STM was split into the light and dark portions (STMl and STMd). A section from each portion was removed from the middle of the muscle, snap-frozen in 2-methylbutane cooled in liquid nitrogen and subsequently stored at −80oC until histochemical analysis was performed. Subsequently, spleen, kidneys, heart, lungs, liver and brain were removed and weighed.
Histochemical analysis of the semitendinosus muscle
The P and S myofibers were differentiated histochemically using the protocol described previously by Bérard et al. [4]. Briefly, 10 μm cross-sections of the STMd and STMl were prepared and stained for the determination of myofibrillar ATPase activity after acid (pH 4.5) or alkaline (pH 10.3) preincubation. In the STMd, the P myofibers stain dark, and the S myofibers light, using the acid preincubation condition, whereas the opposite occurs after basic preincubation. This differentiation was possible in the STMd, whereas, in accordance with observations of the study by Bérard et al. [4], P and S myofibers could not be differentiated in the STMl of newborn pigs using this mATPase histochemistry assay. A sectional cut of the entire muscle area was stained using anti-slow myosin heavy chain monoclonal antibody (Novocastra lyophilized mouse monoclonal antibody myosin heavy chain (NCL-MHCs) diluted 1:20 in ultrapure water; Novocastra, Newcastle, UK). This allowed a clear determination of the STMd and STMl cross-sectional areas.
The number of P myofibers were determined in the mATPase sections after acid pre-incubation, where 750 P myofibers were counted in an area of 0.89 mm2. The number of P myofibers, counted in the selected area, and the cross-sectional area of the STMd was used to estimate the total number of P myofibers. The number of S myofibers was determined in mATPase sections after alkaline preincubation. Four images were taken and analyzed using the analySIS software 5.0 (Soft Imagine System, Olympus Soft Imaging Solutions GmbH, Münster, Germany). At least 33 P myofibers were selected, and all the surrounding S myofibers were counted (> 1000 S myofibers). This permitted estimating the total S myofiber number as well as calculating the S:P myofiber ratio. The total number of myofibers (TNF) in the STMd was calculated from the respective estimated total number of P and S myofibers. In the STMl, the number of myofibers was determined in mATPase sections after acid preincubation, where > 3000 myofibers were counted in an area of 1.47 mm2. The number of counted myofibers, the according measurement area (1.47 mm2) and the cross-sectional area of the STMl were used to estimate TNF.
Gene expression analysis of myogensis-related genes in the Semitendinosus muscle
Of the 70 piglets, samples from five individuals (1 L-BtW and 1 M-BtW male from ARG-IN sows, 2 L-BtW females from ALA-IN sows and 1 L-BtW male from ALA-IN sow) were of too poor quality for analysis of gene expression, thus in a total of 65 piglets, total mRNA was extracted from 50 mg STM by the phenol-chloroform extraction protocol involving homogenization with IKA® T10 basic Ultra-Turrax® (IKA, Staufen, Germany) and phase separation with peqGOLD TriFast
TM
(Peqlab, Erlangen, Germany). Centrifugation steps were carried out at 4 °C and 12,000 ×
g
. Tissue was cut into pieces of 5 mg and homogenized for 20 s in 1 mL of TriFast TM reagent. After 5 min of incubation at room temperature, 200 μL of chloroform was added, shaken for 15 s and incubated at room temperature for 10 min. Subsequently, phases were separated by centrifugation, and the supernatant containing the mRNA was carefully removed and mixed with 500 μL of isopropanol, precooled at 4 °C. Following a 15 min incubation on ice, the tube was centrifuged, the supernatant discarded and the pellet washed in precooled (4 °C) 500 μL of ethanol. After a last centrifugation step at 7,500 ×
g
for 8 min, the ethanol was discarded and the pellet was dried at room temperature. Finally, the mRNA was resuspended in 100 μL nuclease-free water under agitation at 55 °C. Quality and concentrations of sample mRNA were measured with a NanoDrop® ND-1000 (Thermo Scientific, Waltham, Massachusetts, USA). Primers for both target and reference genes are listed in Table
2
. All primers were designed with Primer3 v.4.0.0 (
http://primer3.wi.mit.edu/
), tested for dimerization with OligoAnalyzer® v.3.1 (Integrated DNA Technologies, Coralville, Iowa, USA), and subsequently purchased in SePOP quality dissolved in water (Eurogentec, Seraing, Belgium). Reverse transcription of complementary DNA (cDNA) was performed with ImProm-II
TM
Reverse Transcription System (Promega, Dübendorf, Switzerland). First, random hexamer primers were annealed to the mRNA (5 μL of DNAse-treated mRNA with 1 μL of random hexamers, incubation at 70 °C for 5 min. The mRNA was then subjected to the reverse transcription (using 20 μL reaction solutions with 4 μL of 5× buffer, 2.4 μL of 25 mmol/L MgCl
2
, 1 μL of 10 mmol/L dNTPs, 1 μL of reverse transcriptase and 5.6 μL nuclease-free water, according to manufacturer's protocol). Finally, the freshly synthesized cDNA was diluted 12.5 × with nuclease-free water and stored at 4 °C until further use. Real time-qPCR was carried in 20 μL reaction solutions consisting of 10 μL of 2 × KAPA
TM
SYBR® FAST Master Mix (Kapa Biosystems, Woburn, Massachusetts, USA), 4.2 μL of water, 0.4 μL 10 μmol/L of both forward and reverse primers and 5 μL of cDNA sample. Amplification was carried out in a Rotor-Gene 6000 (Corbett Life Sciences, Sydney, Australia) under the following conditions: A 3 min hold at 95 °C followed by 40 cycles with 10 s of denaturation at 95 °C, 10 s of annealing at 60 °C: Insulin-like growth factor 2 (
IGF2
), Insulin-like growth factor binding protein 5 (
IGFBP5
), Myogenic factor 6 (
MYF6
), Myogenic differentiation 1 (
MYOD
), Protein kinase, AMP-activated, alpha 2 catalytic subunit (
PRKAA2
), TATA box binding protein (
TBP
), 20 s at 60 °C: Myogenin (
MYOG
) or 20 s at 62 °C: Myostatin (
MSTN
), Myogenic factor 5 (
MYF5
), Ribosomal protein L4 (
RPL4
) and 20 s extension time at 72 °C with the last 4 s being used for fluorescence measurements. The cycling was followed by acquisition of a melt curve (from 72 °C to 95 °C, in increments of 1 °C each 5 s) to control the specificity of the PCR product. Owing to the large number of samples, it was decided to amplify all samples for a given gene in one run. Two technical replicates were performed in two further runs (rather than measuring technical replicates in the same run). To reduce inter-run variation, the reactions in all three runs were prepared with the same mastermix.
Table 2
Forward and reverse primers of myogenesis-related genes and reference genes1
Accession no.

Forward primer (from 5' to 3')

Reverse primer (from 5' to 3')

Gene

  IGF2

NM_213883

TGGCATCGTGGAAGAGTG

AGGTGTCATAGCGGAAGAAC

  IGFBP5

U41340

GTGTACCTGCCCAACTGTGA

AAGCTGTGGCACTGGAAGTC

  MSTN

NM_214435

CCCGTCAAGACTCCTACAACA

CACATCAATGCTCTGCCAA

  MYF5

Y17154

CCTGAATGCAACAGCCCT

CGGAGTTGCTGATCCGAT

  MYF6

NM_001244672

CGCCATCAACTACATCGAGAGGT

ATCACGAGCCCCCTGGAAT

  MYOD1

NM_001002824

GGTGACTCAGACGCATCCA

ATAGGTGCCGTCGTAGCAGT

  MYOG

NM_001012406

CAACCAGGAGGAGCGAGAC

GAGGTGAGGGAGTGCAGATT

  PRKAA2

NM_214266

CCCCTGAAACGAGCAACTATC

CACACTTCTTTCACAGCCTCAT

Reference genes

  RPL4

DQ845176

CAAGAGTAACTACAACCTTC

GAACTCTACGATGAATCTTC

  TBP

DQ178129

GATGGACGTTCGGTTTAGG

AGCAGCACAGTACGAGCAA
The modified formula by Livak and Schmittgen [19] suitable for multiple reference genes was applied to gene expression data, and the relative quantification was performed with the qBase+ software (Biogazelle NV, Zwijnaarde, Belgium) [20].
Statistical analysis
Data were analyzed using the MIXED procedure of SYSTAT version 13 (Systat Software, San Jose, CA). All data were tested for normality of residuals. For litter traits, data were analyzed including IUC and dietary treatment (DIET), IUC × DIET interaction, parity, and boar as fixed effect, offspring as random effect, and sow as the experimental unit. Data on absolute and relative STM and PM weight, absolute and relative organ weight, total area of STM, TNF of STM, P and S number of myofibers, the S:P ratio of STMd, area of STMd, STMl and gene expression were analyzed including the main factors of IUC, DIET, sex, sow, parity, BtW (nested within sow), IUC × D and BtW × DIET interaction as fixed, and boar as random effect. For all analyses of the piglet data, sow was used as variable in a repeated measurement procedure. Birth weight was nested within sow as birth weight intervals (L and M) were not unique among sows, leading to the individual piglet being assigned either L or M depending on the dam. The final model was determined by performing backward elimination of non-significant three- and two-way interactions. Offspring was used as the observational unit.
Least squares means of the interaction means concerning the main factors IUC and DIET are presented in the result tables. As the effect of sex and BtW was rarely significant, these least square means were only reported in the text when P < 0.05. The PAIRWISE option using the Tukey adjustment was used to determine differences between interaction effects when two-way interactions occurred. Differences were considered statistically significant at P < 0.05 and as tendency at 0.05 < P < 0.10.
Conclusion
In conclusion, the present study further adds to the increasing evidence that intra-uterine crowding prevalent in high prolific sows critically affects the phenotype of the offspring. This was manifested by the low BtW in contrast to the moderate litter size and offspring BtW of the OL counterparts. Confirming our first hypothesis, l-arginine in the early gestational diet seems to reduce the negative impacts of IUGR, as shown by the increased hyperplasia, body weight and STM area of the offspring at birth. As muscle area increased more than TNF, l-arginine supplementation obviously not only enhanced prenatal myofiber hyperplasia but also hypertrophy. However, details concerning the way in which l-arginine affects myofiber development on cellular and molecular levels remain to be determined. The second hypothesis that l-arginine would be especially efficient in L-BtW piglets was not confirmed. Still, this feeding strategy could be of great benefit to especially L-BtW pigs as they are particularly vulnerable. Thus, l-arginine supplementation to sows in early gestation would potentially improve the survival rate during nursery, and the growth potential during fattening of L-BtW piglets.
Abbreviations
ARG:

Arginine supplementation
BtW:

Birth weight
Ctrl:

Alanine supplementation
DIET:

Dietary treatment
IGF2:

Insulin-like growth factor 2
IGFBP5:

Insulin-like growth factor binding protein 5
IN:

Intact sows
IUC:

Intra-uterine crowding
IUGR:

Intra-uterine growth retardation
L:

Low
M:

Intermediate
MSTN:

Myostatin
MYF5:

Myogenic factor 5
MYF6:

Myogenic factor 6
MYOD1:

Myogenic differentiation 1
MYOG:

Myogenin (myogenic factor 4)
OL:

Unilateral oviduct ligated
P:

Primary
PM:

Psoas major
PRKAA2:

Protein kinase AMP-activated alpha 2 catalytic subunit
RPL4 (LOC100038029):

Ribosomal protein L4
S:

Secondary
SD:

Standard deviation;
STM:

Semitendinosus muscle;
STMd :

Semitendinosus muscle dark portion
STMl :

Semitendinosus muscle light portion
TBP:

TATA box binding protein TNF, total number of myofibers
Declarations
Acknowledgements
The authors would like to thank Guy Maikoff and his staff for their excellent work in the piggery, and Dr. Paolo Silacci and his staff for their valuable support with our laboratory work.
Funding
No external funding was used for this study.
Availability of data and materials
The datasets supporting the conclusions of this article are included within the article.
Authors' contributions
JGM analyzed and interpreted, CP performed the experimental work at slaughter and muscle histology, MK was a major contributor in reviewing the manuscript, GB had the idea for the experiment, planned and supervised the experiment and was a major contributor in writing the manuscript. All authors read and approved the final manuscript.
Competing interests
The authors declare that they have no competing interests.
Consent for publication
Not applicable.
Ethics approval and consent to participate
Experimental protocols were complied with and approved by The Cantonal Committee for Animal Care (approval no. FR14/10). The experiment was conducted at Agroscope (Posieux, Switzerland).
Open AccessThis article is distributed under the terms of the Creative Commons Attribution 4.0 International License (http://creativecommons.org/licenses/by/4.0/), which permits unrestricted use, distribution, and reproduction in any medium, provided you give appropriate credit to the original author(s) and the source, provide a link to the Creative Commons license, and indicate if changes were made. The Creative Commons Public Domain Dedication waiver (http://creativecommons.org/publicdomain/zero/1.0/) applies to the data made available in this article, unless otherwise stated.
Authors' Affiliations
(1)
Agroscope Posieux, Posieux, Switzerland
(2)
ETH Zurich, Institute of Agricultural Sciences, Zurich, Switzerland