Comparative analysis between endometrial proteomes of pregnant and non-pregnant ewes during the peri-implantation period
Journal of Animal Science and Biotechnology
2015
6:18
Received: 22 September 2014
Accepted: 13 April 2015
Published: 25 April 2015
Abstract
Background
Early pregnancy failure has a profound impact on both human reproductive health and animal production. 2/3 pregnancy failures occur during the peri-implantation period; however, the underlying mechanism(s) remains unclear. Well-organized modification of the endometrium to a receptive state is critical to establish pregnancy. Aberrant endometrial modification during implantation is thought to be largely responsible for early pregnancy loss.
Result
In this study, using well-managed recipient ewes that received embryo transfer as model, we compared the endometrial proteome between pregnant and non-pregnant ewes during implantation period. After embryo transfer, recipients were assigned as pregnant or non-pregnant ewes according to the presence or absence of an elongated conceptus at Day 17 of pregnancy. By comparing the endometrial proteomic profiles between pregnant and non-pregnant ewes, we identified 94 and 257 differentially expressed proteins (DEPs) in the endometrial caruncular and intercaruncular areas, respectively. Functional analysis showed that the DEPs were mainly associated with immune response, nutrient transport and utilization, as well as proteasome-mediated proteolysis.
Conclusion
These analysis imply that dysfunction of these biological processes or pathways of DEP in the endometrium is highly associated with early pregnancy loss. In addition, many proteins that are essential for the establishment of pregnancy showed dysregulation in the endometrium of non-pregnant ewes. These proteins, as potential candidates, may contribute to early pregnancy loss.
Keywords
Early pregnancy lossEndometriumEweLC-MS/MSProteome
Introduction
Pregnancy loss in livestock and humans is estimated to occur in 20 to 40% of pregnancies [1], two-thirds of which occur during the peri-implantation period [2,3]. Implantation, a critical event for establishing pregnancy, involves an elaborate set of molecules essential to maternal–fetal crosstalk. Ruminants have been used extensively to investigate maternal–fetal interactions during implantation [4]. As a biological sensor of the embryo, well-organized modification of the uterine endometrium is critical for successful implantation [5]. Aberrant endometrial modifications during implantation are believed to be largely responsible for failed pregnancy establishment [6].
Despite many previous studies on factors involved in early pregnancy loss, the underlying mechanism(s) remains unclear. The '-omic' approaches, including RNA-seq, microarray and proteomic profiling, have been used to profile the gene or protein expression patterns in the endometrium during peri-implantation period. Mansouri-Attia showed gene expression patterns in the bovine endometrium during early pregnancy after artificial insemination (AI) using microarray analysis [7]. Similarly, transcriptomes of the endometrium during early pregnancy have also been profiled in ewes [8], humans [9], mice [10], pigs [11] and horses [12]. However, these studies, in which the non-pregnant controls were cyclic female animals [7,8,13], animals inseminated with the supernatant of centrifuged sperm [14], or recipients that received a sham transfer [15], have generally focused on characterizing expression profiles for the establishment of pregnancy, and the results are not suitable to characterize the endometrial proteomic profile in ruminants undergoing early pregnancy loss.
Using ewes as model, the aim of our study was to establish a proteomic database to study the characteristics of the endometrium associated with early pregnancy loss. The endometrial proteomic profiles were compared between pregnant and non-pregnant (failed pregnant) ewes on Day 17 of pregnancy. , It should be mentioned that this time point was documented as the end point of the peri-implantation period in sheep [16,17], and also extensively selected in previous studies to explore endometrium involved mechanisms of pregnancy establishment [18-21].
Compared with transcriptomic analysis by RNA-seq or microarray, the proteomic approach has the major advantage of investigating functional molecules directly. To the best of our knowledge, this study provides the first endometrial proteomic profile for ewes, as well as the first liquid chromatography/electrospray ionization tandem mass spectrometry (LC-ESI-MS/MS)-derived proteomic profile of the endometrium from a ruminant species. More importantly, our analysis implicated a number of endometrial proteins as being associated with early pregnancy loss in ewes. Our results also provided a comprehensive and detailed reference for further study of the mechanisms of early pregnancy loss.
Materials and methods
Experimental design
As mentioned above, the aim of this study was to establish an endometrial proteome that characterized early pregnancy loss, and to provide a reference for studying the endometrium's involvement in pregnancy loss. For this purpose, ewes that received embryo transfer were assigned as pregnant and non-pregnant groups, based on the presence or absence of well-developed filamentous conceptus on Day 17 of pregnancy (Figure
1
). Considering the fact that the outcome of pregnancy could be influenced by various factors, all experimental procedures, including the management of donor and recipient ewes,
in vivo
embryo production and transfer, as well as conceptus detection and sample collection, etc., were performed under strictly controlled and unified conditions, therefore, the endometrial proteome of non-pregnant ewes would largely reflect the characteristics that are associated with, or responsible for, early pregnancy loss. In addition, considering that both pregnant and non-pregnant ewes had received well-developed embryos, and all experimental procedures were performed under strictly controlled and unified conditions, we considered that the outcome of pregnancy was largely caused by the different response and modulation of the maternal uterus to the transferred embryos.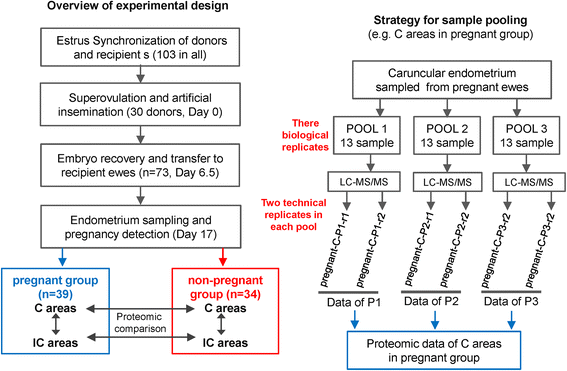 The C areas of the endometrium are the sites of superficial implantation and placentation in ewes, while the IC areas contain large numbers of branched and coiled uterine glands that synthesize, secrete and transport a variety of molecules essential to the development of conceptus [22]. Given the differences in structure and biological functions associated with the C and IC areas, these two distinct endometrial zones are always analyzed separately in detailed studies of the implantation process [5,23]. Therefore, a global proteomic analysis of the endometrium was carried out to characterize the endometrial protein expression patterns associated with early pregnancy loss. We first established proteomic profiles of the C and IC areas between pregnant and non-pregnant ewes; thereafter, we compared the profiles between the C and IC areas of pregnant and non-pregnant ewes (Figure 1), as in a previous study [7]. Endometrial samples from each ewe in the same group were divided into three pools as biological replicates, and each pooled sample was divided into two equal aliquots and processed as technical replicates. Data for each pool were obtained by taking the average of results from the two aliquots (Figure 1).
Animals and treatments
Procedures for handling animals were in accordance with the Guide for the Care and Use of Agricultural Animals in Agricultural Research and Teaching, and the Animal Use Committee, China Agricultural University, approved all the procedures. Chinese Small Tail Han ewes with normal ovarian cycles (n = 103) were selected after general clinical examinations. All animals were fed and managed under unified and optimized conditions of environment and nutrition, before and after embryo transfer. The estrous cycle was synchronized using progesterone-impregnated (0.3 g) vaginal implants with controlled intra-vaginal drug release (CIDR-BTM, Pfizer Animal Health, Auckland, New Zealand) for 13 d. The recipients (n = 73) each received an intramuscular (i.m.) injection of 15 mg of prostaglandin F2α (Lutalyse, Pfizer, New York, NY, USA) 2 d before the progesterone vaginal implant was removed. The donors (n = 30) were administered with follicle stimulating hormone (Folltropin-V; Vetrepharm Canada Inc.; Belleville, ON, Canada) i.m. at doses of 40 mg, 30 mg, 30 mg and 24 mg at 12-h intervals to achieve multiple ovulations, beginning 48 h before progesterone withdrawal. Three artificial inseminations were performed within a 12-h interval, beginning 24 h after the progesterone vaginal implant was removed. The day of progesterone withdrawal was defined as Day 0. Introducing and recovering 500 mL phosphate buffered saline (PBS) into each uterine horn at 6.5 d post-insemination flushed the blastocysts. A stereomicroscope was used to perform embryo biopsies. Following the biopsy, two well-developed blastocysts were transferred per synchronized recipient ewe to ensure normal pregnancy signals during implantation. To minimize the difference between pregnant and non-pregnant ewes contributed by the surgical procedure and embryo quality, we selected a single skillful technician, and only good-quality (referred as Grade 1) blastocysts were transferred. By this method, it is accepted that the outcome of pregnancy could be mostly attributed to the response and modulation of the maternal uterus to the transferred embryos.
Endometrial tissue recovery
The recipients were sacrificed on Day 17 of pregnancy, and their uteri were collected and flushed with PBS. Animals with filamentous conceptus were assigned to the pregnant group, while ewes without a visual conceptus were included in the non-pregnant group. The presence of a conceptus was obvious because there was an apparently normal elongated conceptus of 25 cm in length or more attached to the endometrium of the pregnant ewes by Day 17 [24], while no such filamentous conceptus was observed in the non-pregnant group. Samples of the endometrial caruncular (C) and intercaruncular (IC) areas were taken and processed as described by Mansouri-Attia [5]. Scissors were used to open the ipsilateral uterine horn longitudinally. Endometrial C area tissues were first carefully cut out, and then the endometrial IC areas were sampled. The tissues were sampled from all the animals by the same technician and stored at −80°C until further analysis.
Protein extraction
A sample from each aliquot prepared as described above was ground to powder in liquid nitrogen and stored overnight at −20°C after adding a five-fold volume of chilled acetone containing 10% trichloroacetic acid (TCA) and 10 mmol/L dithiothreitol (DTT). The samples were then centrifuged at 4°C, 16,000 × g for 20 min and the supernatant discarded. The precipitates were mixed with 1 mL chilled acetone containing 10 mmol/L DTT and centrifuged at 4°C, 20,000 × g for 30 min after storing for 30 min at −20°C. Centrifugation was repeated several times until the supernatant was colorless. The pellets were air-dried, dissolved in lysis buffer containing 1 mmol/L phenylmethanesulfonyl fluoride (PMSF), 2 mmol/L ethylenediaminetetraacetic acid (EDTA) and 10 mmol/L DTT and sonicated at 200 Watts for 15 min before being centrifuged at 30,000 × g at room temperature for 30 min. The Bradford method was used to determine the protein concentration of each supernatant.
Peptide digestion
Fifty micrograms of protein was taken from each sample, and isopycnic samples were prepared by adding 8 mol/L urea solution. To reduce disulfide bonds, the samples were incubated with 10 mmol/L DTT at 56°C for 1 h, and then cysteine bonding was blocked using 55 mmol/L iodoacetamide (IAM) in a dark room for 45 min. Thereafter, each sample was diluted 8-fold with 50 mmol/L ammonium bicarbonate and digested with Trypsin Gold at a protein: trypsin ratio of 20:1 at 37°C for 16 h. Following desalting using a Strata × C18 column (Phenomenex), the samples were vacuum dried.
LC-ESI-MS/MS analysis with LTQ-orbitrap collision induced dissociation (CID)
Each sample was resuspended in buffer A [2% acetonitrile (ACN), 0.1% formic acid (FA)] and centrifuged at 20,000 × g for 10 min. The final peptide concentration for each sample was approximately 0.5 μg/mL. The digested samples were fractionated using a Shimadzu LC-20AD nano-HPLC system. Each sample (10 μL) was loaded by the autosampler onto a 2-cm C18 trap column (200-μm inner diameter), and the peptides were eluted onto a resolving 10-cm analytical C18 column (75-μm inner diameter) prepared in-house. The samples were loaded at a flow rate of 15 μL/min for 4 min, and then a 91-min gradient from 2% to 35% buffer B (98% ACN, 0.1% FA) was run at a flow rate of 400 nL/min, followed by a 5-min linear gradient to 80% buffer B that was maintained for 8 min before finally returning to 2% buffer B within 2 min. The peptides were subjected to nanoelectrospray ionization and then detected by MS/MS in an LTQ Orbitrap Velos (Thermo Fisher Scientific, Bremen, Germany) coupled online to a high performance liquid chromatography (HPLC) system. Intact peptides were detected in the Orbitrap analyzer at a resolution of 60,000. Peptides were selected for MS/MS using the CID operating mode with a normalized collision energy setting of 35%, and ion fragments were detected in the LTQ. One MS scan followed by ten MS/MS scans was applied for the ten most abundant precursor ions above a threshold ion count of 5,000 in the MS survey scan. Dynamic exclusion was used, and the parameters were set as follows: repeat counts = 2; repeat duration = 30 sec; and exclusion duration = 120 sec. The applied electrospray voltage was 1.5 kV. Automatic gain control (AGC) was used to prevent overfilling of the ion trap; 1 × 104 ions were accumulated in the ion trap for generation of CID spectra. For MS scans, the m/z scan range was 350 to 2,000 Da.
Proteomic analysis
MaxQuant software (version 1.1.1.36) was used to analyze the mass spectra, which generates a list of peptide peaks for searching a reference protein database and evaluates statistically the results of protein identification and quantitation based on computational algorithms from Cox and Mann [25]. The cow is the only well-annotated species with a genomic database with a high degree of homology to sheep. Therefore, we generated one reference protein database by integrating the following databases and sequences of cow proteins and limited publically available sheep proteins and removed duplicate proteins: GenBank nr (20110403), Uniprot cow proteins (20110503), sheep proteins (http://www.livestockgenomics.csiro.au/sheep/) and cow proteins (http://genomes.arc.georgetown.edu/drupal/bovine/). The search engine embedded in MaxQuant was used to search the MS/MS data against the reference protein database. Up to two missed cleavages were allowed. The first search was set to 20 ppm, and the MS/MS tolerance for CID was set to 0.5 Da. The false discovery rate (FDR) was set to 0.01 for peptide and protein identifications. Proteins were considered identified when at least two peptides were identified, at least one of which was uniquely assignable to the corresponding sequence. In the case of identified peptides that were all shared between two proteins, these were combined and reported as one protein group. Contents of the protein table were filtered to eliminate identifications from the reverse database and common contaminants. The minimum peptide length was set to six amino acids. A minimum of two peptides, with one being unique, was required for protein identification. The MaxQuant software suite containing an algorithm based on the extracted ion currents (XICs) of the peptides was used to perform label-free quantification analysis. This specific label-free processing method described by Waanders et al. [26] has been successfully applied in other label-free quantification studies [27].
Data analysis
To facilitate data analysis, all proteins were mapped to the Ensembl Bos taurus gene ID. Student's t-test was used to detect the significance of the differentially expressed proteins (DEPs), and P < 0.05 was considered significant. DAVID version 6.7 (http://david.abcc.ncifcrf.gov/) enables the generation of specific functional annotations of biological processes affected by treatment from the target gene lists produced in high-throughput experiments [28,29]. We used the DAVID platform to annotate biological themes for the different groups (pregnant vs. non-pregnant ewes) or different endometrial locations (C vs. IC areas). Moreover, gene symbols corresponding to DEPs were also sent to the Search Tool for the Retrieval of Interacting Genes/Proteins (STRING version 9; http://string.embl.de/) to build a network using edge information from three separate forms of evidence: databases, experiments and text mining. We used 0.4 (medium confidence) as the value for edge confidence provided by STRING. To assess the similarities of the different replicates, and to obtain a visual understanding of the relationship between the different experimental groups, the CLUSTER 3.0 data analysis tool carried out hierarchical clustering based on the clusters of protein expression profile of different technical and biological replicates.
Discussion
Although aberrant molecular processes in the endometrium during implantation make a large contribution to early pregnancy loss, associated studies are limited, mainly because of the lack of a proper research model or protocol. Knockout or mutant mouse models with a pregnancy loss phenotype are generally caused by one or a few defined factors. Thus, comprehensively identifying uterine mechanisms that lead to an early pregnancy loss is challenging. It should be mentioned that, in the present study, considering that the outcome of embryo transfer would be influenced by multiple factors, transfer procedure and embryo quality were strictly controlled according a well-established procedure to minimize the contribution of other factors to the difference between pregnant and non-pregnant endometria. In addition, two well-developed blastocysts were transferred to ensure that there would be sufficient pregnancy signals derived from the conceptus during the maternal-fetal dialogue. By this methodology, the characterized protein expression patterns of the non-pregnant endometrium were largely attributed to aberrant modifications and functions of the endometrium. These systematic results provide a window into the mechanistic framework of early pregnancy loss.
Conclusions
In conclusion, LC-ESI-/MS-MS technology allowed us to develop the first proteomic map in the sheep endometrium and to obtain a distinctive proteomic profile for the endometrium of ewes experiencing early pregnancy failure. Many dysregulated proteins were identified in the endometrium of non-pregnant ewes, some of which had been reported to be involved in establishment of pregnancy, while the roles of other newly identified proteins in early pregnancy failure remain to be further investigated. Based on the functional enrichment analysis of DEPs by GO, KEGG and network categories, a general conclusion can be drawn that aberrant nutrient transport and utilization, abnormal immune responses, as well as aberrant proteasome-dependent proteolysis in the endometrium are tightly associated with early pregnancy failure in sheep (Figure 5A). In addition, here we displayed a interesting novel finding. The highly abundant protein related to "ECM-receptor interaction" and "focal adhesion assembly" suggests that cell adhesion is also presented in IC areas, which may be responsible for the successful pregnancy establishement. The results of our research provide a comprehensive and detailed reference for further studies to advance the understanding of the mechanism(s) associated with early pregnancy failure. It should be mentioned that few proteomic data of sheep could be validated in previous related studies, and the validation of our proteomic data by western blotting were not provided because of the non-availability of effective antibodies. However, this did not compromise the significance of our proteomic data as a reference for exploring the underlying mechanism of endometrium-associated early pregnancy failure.
Declarations
Acknowledgements
This work was supported by grants from the National High-Tech R&D Program (Nos. 2011AA100303, 2013AA102506), and the National Key Technology R&D Program (Nos. 2011BAD19B01, 2011BAD19B03, 2011BAD19B04). We gratefully acknowledge Dr. Fuller W. Bazer (Texas A&M University) for his critical pre-review of the manuscript. We thank our laboratory members for their helpful comments on the manuscript.
Authors' Affiliations
(1)
Ministry of Agriculture Key Laboratory of Animal Genetics, Breeding and Reproduction, National engineering laboratory for animal breeding, College of Animal Sciences and Technology, China Agricultural University, Beijing, China
(2)
The Key Laboratory for Farm Animal Genetic Resources and Utilization of Ministry of Agriculture of China, Institute of Animal Science, Chinese Academy of Agriculture Sciences, Beijing, China
(3)
National Engineering Laboratory for Animal Breeding and MOA Key Laboratory of Animal Genetics and Breeding, China Agricultural University, Beijing, China
(4)
College of Animal Science and Technology, Agricultural University of Hebei, Baoding, People's Republic of China
(5)
State Key Laboratory of Animal Nutrition, College of Animal Sciences and Technology, China Agricultural University, Beijing, China
(6)
Department of Biochemistry and Molecular, Dalian Medical University, Dalian, China
Copyright
© Zhao et al.; licensee BioMed Central. 2015
This is an Open Access article distributed under the terms of the Creative Commons Attribution License (http://creativecommons.org/licenses/by/4.0), which permits unrestricted use, distribution, and reproduction in any medium, provided the original work is properly credited. The Creative Commons Public Domain Dedication waiver (http://creativecommons.org/publicdomain/zero/1.0/) applies to the data made available in this article, unless otherwise stated.