Biochemical and physiological bases for utilization of dietary amino acids by young Pigs
Journal of Animal Science and Biotechnology
2013
4:7
Received: 6 October 2012
Accepted: 19 February 2013
Published: 27 February 2013
Abstract
Protein is quantitatively the most expensive nutrient in swine diets. Hence it is imperative to understand the physiological roles played by amino acids in growth, development, lactation, reproduction, and health of pigs to improve their protein nutrition and reduce the costs of pork production. Due to incomplete knowledge of amino acid biochemistry and nutrition, it was traditionally assumed that neonatal, post-weaning, growing-finishing, and gestating pigs could synthesize sufficient amounts of all "nutritionally nonessential amino acids" (NEAA) to support maximum production performance. Therefore, over the past 50 years, much emphasis has been placed on dietary requirements of nutritionally essential amino acids as building blocks for tissue proteins. However, a large body of literature shows that NEAA, particularly glutamine, glutamate, arginine and proline regulate physiological functions via cell signaling pathways, such as mammalian target of rapamycin, AMP-activated protein kinase, extracellular signal-related kinase, Jun kinase, mitogen-activated protein kinase, and NEAA-derived gaseous molecules (e.g., nitric oxide, carbon monoxide, and hydrogen sulfide). Available evidence shows that under current feeding programs, only 70% and 55% of dietary amino acids are deposited as tissue proteins in 14-day-old sow-reared piglets and in 30-day-old pigs weaned at 21 days of age, respectively. Therefore, there is an urgent need to understand the roles and dietary requirements of NEAA in swine nutrition. This review highlights the basic biochemistry and physiology of absorption and utilization of amino acids in young pigs to enhance the efficacy of utilization of dietary protein and to minimize excretion of nitrogenous wastes from the body.
Keywords
Amino acidsMetabolismNutritionPigs
Introduction
Amino acids have been traditionally categorized as either nutritionally essential (EAA) or non-essential (NEAA) in animals (Table 
1
). The EAA must be supplemented in the diet in adequate amounts because their carbon skeletons are not synthesized
in vivo
[
1
,
2
]. Alternatively, inter-organ metabolism of amino acids in the body leads to the
de novo
synthesis of NEAA [
3
,
4
]. For example, glutamine and glutamate released from skeletal muscle into the circulation derive their α-amino nitrogen from branched-chain amino acids whose carbon skeletons cannot be formed in the body. Growing evidence shows that pigs do not synthesize sufficient amount of NEAA to maintain their maximum growth, development, lactation, and reproduction performance [
5
–
7
].
Table 1
Traditional classification of AA as EAA and NEAA in swine nutrition
| EAA | NEAA |
| --- | --- |
| Arginine1 | Alanine |
| Histidine | Asparagine |
| Isoleucine | Aspartate |
| Leucine | Cysteine2 |
| Lysine | Glutamate2 |
| Methionine | Glutamine2 |
| Phenylalanine | Glycine2 |
| Threonine | Proline2 |
| Tryptophan | Serine |
| Valine | Tyrosine2 |
Amino acids play crucial role in maintaining normal physiological function and nutritional status of the body [8, 9]. Amino acids that regulate key metabolic pathways of cells essential for survival, growth, development, and reproduction of animals are recently proposed as the "functional amino acids" [3, 10]. The term "functional amino acids" encompasses arginine, cysteine, glutamine, glutamate, glycine, leucine, proline, and tryptophan which are known to improve the efficiency of utilization of dietary proteins in pigs [6, 11, 12].
Protein is quantitatively the most expensive nutrient in swine diets. Complex biochemical and physiological processes are required to transform food proteins into tissue proteins. These events include digestion, absorption, and metabolism of amino acids that involve enterocytes, the microbiota in the lumen of the small intestine, the splanchnic bed, digestive organs, and interorgan cooperation via multiple signaling pathways [
3
]. These complex processes form the fundamentals of dynamic utilization of both EAA and NEAA (Figure 
1
). Except for glutamate, glutamine, and aspartate, which are extensively degraded in the small intestine, dietary amino acids are primarily used for protein accretion in young pigs [
13
]. Limited research has been conducted to understand the utilization of amino acids towards the synthesis of non-protein substances in animals. Based on these studies, it has been estimated that approximately 10-40% of dietary EAA and NEAA (e.g., asparagine, cysteine, serine, and tyrosine) that enter the portal circulation are degraded in extra-intestinal tissues [
13
].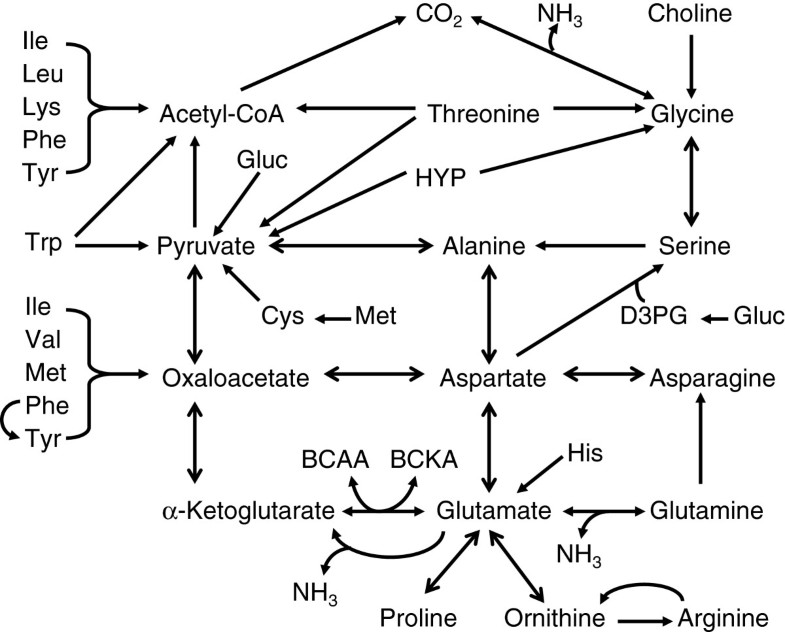 Under current feeding programs, efficiency of the utilization of dietary proteins for animal growth remains suboptimal. For example, in 14-day-old pigs reared by sows and in 30-day-old pigs weaned at 21 days of age, only 70% and 55% of dietary amino acids are deposited in tissue proteins, respectively [13]. The remaining amino acids must be degraded to CO2, NO, CO, H2S, methane, H2O, ammonia, urea, nitrate, and other nitrogenous metabolites [14, 15]. Excretion of these products in urine and feces is a source of environmental pollution and can contribute to global climate changes. Therefore, there is an urgent need to better understand biochemical and physiological limitations to efficiency of amino acid utilization in swine.
Abbreviations
AMPK:

AMP-activated protein kinase
EAA:

Nutritionally essential amino acids
4EBP1:

Eukaryotic translation initiation factor 4E-binding protein-1
IUGR:

Intrauterine growth restriction
MSG:

Monosodium glutamate
MTOR:

Mechanistic or mammalian target of rapamycin
NEAA:

Nutritionally nonessential amino acids
NRC:

National Research Council.
Declarations
Acknowledgments
Work in our laboratories was supported by National Research Initiative Competitive Grants from the Animal Reproduction Program (2008-35203-19120) and Animal Growth & Nutrient Utilization Program (2008-35206-18764) of the USDA National Institute of Food and Agriculture, AHA (10GRNT4480020), Texas A&M AgriLife Research (H-8200), the National Basic Research Program of China (2013CB127302), the National Natural Science Foundation of China (30810103902, 30972156, 31172217, 31272450, and 31272451), China Postdoctoral Science Foundation (2012 T50163), Chinese Universities Scientific Funds (2012RC024), and the Thousand-People Talent program at China Agricultural University.
Authors' Affiliations
(1)
Department of Animal Science, Texas A&M University, College Station, USA
(2)
State Key Laboratory of Animal Nutrition, China Agricultural University, Beijing, China
Copyright
© Rezaei et al.; licensee BioMed Central Ltd. 2013
This article is published under license to BioMed Central Ltd. This is an Open Access article distributed under the terms of the Creative Commons Attribution License (http://creativecommons.org/licenses/by/2.0), which permits unrestricted use, distribution, and reproduction in any medium, provided the original work is properly cited.