Transcriptional changes in mesenteric and subcutaneous adipose tissue from Holstein cows in response to plane of dietary energy
Journal of Animal Science and Biotechnology
2017
8:85
Received: 4 April 2017
Accepted: 18 October 2017
Published: 4 December 2017
Abstract
Background
Dairy cows can readily overconsume dietary energy during most of the prepartum period, often leading to higher prepartal concentrations of insulin and glucose and excessive body fat deposition. The end result of these physiologic changes is greater adipose tissue lipolysis post-partum coupled with excessive hepatic lipid accumulation and compromised health. Although transcriptional regulation of the adipose response to energy availability is well established in non-ruminants, such regulation in cow adipose tissue depots remains poorly characterized.
Results
Effects of ad-libitum access to high [HIGH; 1.62 Mcal/kg of dry matter (DM)] or adequate (CON; 1.35 Mcal/kg of DM) dietary energy for 8 wk on mesenteric (MAT) and subcutaneous (SAT) adipose tissue transcript profiles were assessed in non-pregnant non-lactating Holstein dairy cows using a 13,000-sequence annotated bovine oligonucleotide microarray. Statistical analysis revealed 409 and 310 differentially expressed genes (DEG) due to tissue and diet. Bioinformatics analysis was conducted using the Dynamic Impact Approach (DIA) with the KEGG pathway database. Compared with SAT, MAT had more active biological processes related to adipose tissue accumulation (adiponectin secretion) and signs of pro-inflammatory processes due to adipose tissue expansion and macrophage infiltration (generation of ceramides). Feeding the HIGH diet led to changes in mRNA expression of genes associated with cell hypertrophy (regucalcin), activation of adipogenesis (phospholipid phosphatase 1), insulin signaling activation (neuraminidase 1) and angiogenesis (semaphorin 4G, plexin B1). Further, inflammation due to HIGH was underscored by mRNA expression changes associated with oxidative stress response (coenzyme Q3, methyltransferase), ceramide synthesis (N-acylsphingosine amidohydrolase 1), and insulin signaling (interferon regulatory factor 1, phosphoinositide-3-kinase regulatory subunit 1, retinoic acid receptor alpha). Activation of ribosome in cows fed HIGH indicated the existence of greater adipocyte growth rate (M-phase phosphoprotein 10, NMD3 ribosome export adaptor).
Conclusions
The data indicate that long-term ad-libitum access to a higher-energy diet led to transcriptional changes in adipose tissue that stimulated hypertrophy and the activity of pathways associated with a slight but chronic inflammatory response. Further studies would be helpful in determining the extent to which mRNA results also occur at the protein level.
Keywords
Adipose tissueDairy cowDietary energyTranscriptome
Background
Dairy cows can readily overconsume dietary energy during the prepartum period [1]. Offering a high-energy compared with a low-energy diet leads to increased internal fat deposition [2]. Studies conducted by different research groups revealed that excess prepartal energy intake induced higher prepartal plasma concentrations of insulin, glucose and beta-hydroxy-butyric acid, in comparison with controlled or restricted energy feeding. This symptomatology was associated with greater peripheral lipolysis, with subsequent greater hepatic lipid accumulation at the onset of lactation that compromised animal health [3, 4]. A decrease in adipose tissue (AT) responsiveness to insulin was proposed as the reason for negative effects on animal performance.
Adipose tissue is not simply a metabolic tissue that regulates whole body energy homeostasis, it also plays an important endocrine function by secreting a number of proteins with signaling properties that are involved in the regulation of metabolism (adiponectin, leptin), feed intake (leptin), and immune function and inflammation (TNF-α, IL-1β) [5]. Despite the dominance of mature adipocytes, AT is also composed of immune cells (macrophages) and stromal-vascular cell fractions containing preadipocytes, endothelial cells, and mesenchymal stem cells, which may vary in their response to external stimuli (such as nutrient supply) and immune activation [5].
Differences between visceral AT (VAT) and SAT in the proportion of cell types, capillary network, lipid storage capacity, endocrine activity, and responsiveness to lipolytic stimuli have been documented in humans and rodents [6]. In dairy cattle, VAT is more sensitive to dietary changes and it may have a significant effect on whole body metabolic responses, particularly in the liver, due to the direct portal drainage [7]. Some metabolic disorders that occur frequently after parturition are associated with macrophage infiltration into omental and subcutaneous fat, and coincide with a period of high lipolytic activity [8]. In postpartum heifers, this could happen as early as 1 d after parturition [9]. It is currently unknown if AT macrophage infiltration occurs in dairy cattle only during periods of negative energy balance [10].
Large-scale mRNA expression techniques allow detection of changes in thousands of genes simultaneously, which provides a holistic understanding when adequately compared to other omes. The combined utilization of bioinformatics analysis helps identify the most enriched biological functions, pathways, and physiological changes within the affected genes. As an example, in a previous study in mice utilizing microarray analysis of peri-gonadal AT, adiposity varied due to sex, diet, and obesity-related mutations [11]. Furthermore, phenotypic variation in body mass, adipocyte size, and body mass index (BMI) was correlated with quantitative variations in the expression of genes. In that study, body mass was correlated with 1,304 transcripts, and among the top 100 correlated genes a total of 30% encode macrophage-related proteins. For example, TNF-α, IL-6, PAI-1, NO, factor VII, and MCP-1 were correlated with adverse pathophysiological phenotypes associated with obesity [11]. iNOS and TNF-a were required for obesity-induced insulin resistance in mice. Colony stimulating factor 1 receptor (Csf1r) and CD68 antigen (Cd68) were positively correlated with BMI, and succinate dehydrogenase complex iron sulfur subunit B (Sdhb), and ubiquinol–cytochrome c reductase (Uqcr), negatively correlated with body mass. Clearly, gene transcription is a major control mechanism of AT lipogenesis during early lactation [12]. In the current study, we utilized different bioinformatics tools (IPA, DAVID, and KEGG bioinformatics software plus DIA) to identify the most-enriched gene ontology (GO) functions and pathways in MAT and SAT of multiparous dairy cows in response to ad-libitum access for 8 wk of a high energy as compared to a control diet.
Results and discussion
Animal performance and adipose depot response to diets
Animal performance, adipose tissue mass comparisons and blood serum metabolite data from the larger group of 18 cows were reported elsewhere [2]. Briefly, cows fed HIGH consumed 42% more DM than cows fed CON, therefore, final BW was greater (P < 0.05) for cows fed HIGH than for those fed CON. However, final BCS and carcass weight did not differ significantly between dietary groups [2]. The concentration of glucose in serum did not differ between diets, but serum insulin tended (P = 0.09) to be greater for cows fed HIGH than for those fed CON. As a result, the glucose to insulin ratio was greater (P = 0.02) for cows fed CON than for those fed HIGH. Concentrations of NEFA, urea N, total protein, albumin, and globulin did not differ significantly between diets.
Adipose tissue accumulates in different areas in beef and dairy cattle, being usually higher in internal adipose depots for dairy cattle and higher in subcutaneous depots in beef steers [14]. The amount of fat depot in an specific area of the body will also depend on the type of diet provided [20]. In our study, dairy cows fed HIGH had greater mesenteric adipose mass compared to CON cows [2]. In ruminants, this selective deposition of lipid is mainly due to differences in the final products of fermentation by rumen microorganisms. Beef cattle are usually fed high starch-containing diets resulting in more propionate available for metabolism than dairy cattle, which usually receive a forage-based diet where acetate is more predominant than propionate [21]. The glucose converted to propionate by ruminal microbes is the favored substrate for adipocytes infiltrating muscle (i.e., intramuscular fat), unlike subcutaneous adipocytes where acetate is favored as lipogenic substrate [22].
Transcriptomic modifications in different adipose depots
Differentially expressed genes induced by dietary energy in mesenteric (MAT) and subcutaneous adipose (SAT) depots
In this study, the comparison between MAT of cows fed HIGH with the SAT of cows fed CON had the greatest overall number of DEG, including greater numbers of up-regulated DEG (Fig.
1
). The majority of DEG had a range in fold-change of −1.5 and 1-fold with the highest number of DEG for the comparison HIGH-MAT vs. CON-SAT (Fig.
1
). In other words, cows that were fed CON had lower overall DEG in SAT suggesting a greater metabolic activity in MAT for cows fed HIGH. It is important to point out that, at a transcriptome level, a higher energy supply in the diet produces activation of genes present in fat depots like SAT which is more sensitive to insulin (antilipolytic stimulation) as compared to MAT which is more sensitive to catecholamines (lipolytic stimulation) [
23
].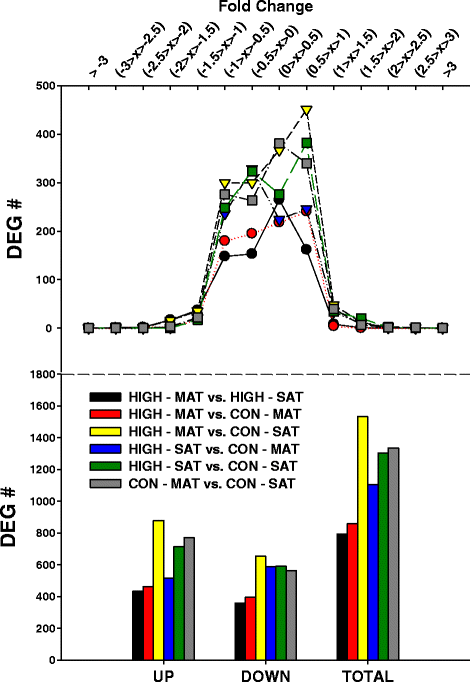 Dry matter intake was greater in non-lactating cows fed the high energy diet as compared to the low energy diet; as a consequence, total visceral and abdominal fat mass was greater in cows fed high energy [2]. Therefore, in HIGH cows, these are signs suggesting that MAT had a more active metabolism with a higher turnover rate as compared with SAT. Hence, we expect that MAT will be more sensitive to dietary changes based on the greater DM and energy intake [2].
Most impacted DEG, KEGG pathways and GO terms in MAT and SAT depots
The 'Cysteine and methionine metabolism' KEGG pathway was highly impacted and inhibited due to the effect on expression of cystathionine-beta-synthase (
CBS
), which leads to homocysteine catabolism inhibition and hydrogen sulfide biosynthesis (Fig.
2
and Additional file
4
). The gene
CBS
has a pivotal role in mammalian sulfur metabolism at the homocysteine junction, where methionine is conserved or converted to cysteine via the trans-sulfuration pathway [
24
].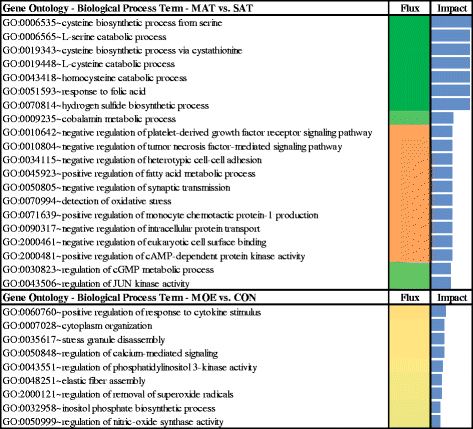 In ruminant pancreas and liver, CBS regulates the conversion of homocysteine to cystathionine, and the conversion of cystathionine to cysteine is catalized by the activity of γ-cystathionase. γ-cystathionase is a rate-limiting enzyme for homocysteine catabolism in sheep, and in adult sheep more homocysteine is conserved for methionine synthesis by lowering the rate of the catabolism of homocysteine to cysteine [25]. Thus, we speculate that in MAT vs. SAT, the marked downregulation of 'cysteine and methionine metabolism' pathway might be driven by a similar mechanism. Furthermore, cysteine-related compounds also protect the liver against oxidative stress damage via enhancing glutathione peroxidase (GPx) activity [26]. Thus, CBS inhibition in MAT vs. SAT could have decreased the synthesis of two potent antioxidants, taurine or glutathione via the transulfuration pathway [27]. If such response actually occured, taurine or glutathione synthesis would have been reduced causing additional infiltration of adipose tissue by macrophages [28]. The inhibition of 'cysteine biosynthesis' due to CBS downregulation suggests increased sensitivity to oxidative stress in MAT vs. SAT.
In our previous study, mRNA expression of chemokines and adipokines was greater in MAT as compared to SAT, sustaining the outcomes for this study. In a study with mice, pre-adipocytes from subcutaneous adipose tissue were significantly more resistant than visceral-derived cells to cell death caused by oxidative stress [29]. Furthermore, 'Glycine, serine and threonine metabolism' was the KEGG pathway with the greatest impact and was inhibited, mainly due to the expression of alanine-glyoxylate aminotransferase (AGXT) that was up-regulated, and CBS which was down-regulated. Both genes have a role in L-Serine catabolism leading to the synthesis of 'Cysteine via cystathionine', which was inhibited in MAT as compared to SAT (Additinal file 2: Figure S1 and Additional file 4).
The inhibition of 'protein digestion and absorption' KEGG pathway was highly impacted due to the inhibition of a wide variety of collagen genes (COL1A1, 1A2, 3A1, 5A2, 9A2) that play key roles in protein heterotrimerization (Additional file 4). Furthermore, the effect of different collagen-related genes that were down-regulated (COL1A1, 1A2, 3A1 and 5A2) also seemed related to the inhibition of the KEGG pathway 'ECM-receptor interaction' (Additional file 4). The DIA analysis results revealed that among the GO terms associated with 'ECM-receptor interaction' KEGG pathway, the highest impact and inhibition was on 'protein heterotrimerization' and 'negative regulation of immune response' (BP), 'platelet-derived growth factor binding' and 'extracellular matrix structural constituent' (MF), 'collagen type I trimer' (CC), 'Fibrillar collagen', 'C-terminal' (INTERPRO) (Additional file 4). The inhibition of collagen synthesis during negative energy balance decreases the differentiation capacity of bovine intramuscular preadipocytes [30]. In contrast, during states of positive energy balance in mouse, weakening of the extracellular support of adipocytes, which are mainly formed by collagen, enables their stress-free expansion and is associated with the appearance of an inflammatory profile [31]. In a previous transcriptome analysis using RNA-Seq in intramuscular, subcutaneous and omental fat in Hanwoo steers, ECM-receptor interaction was one of the commonly enriched pathways in all three adipose depots under study. The main ECM constituent, collagen was significantly enriched in subcutaneous and intramuscular fat and authors argued that the interaction between ECM components and transmembrane receptors of fat cells might influence the adipogenic capacity of each depot [32]. Based on this literature, the inhibition of protein heterotrimerization which is related to the collagen type I trimer detected in MAT vs. SAT could be considered as an indirect sign of adipose tissue expansion.
'Vitamin digestion and absorption' was inhibited due to the down-regulation of ATP-binding cassette, sub-family C (CFTR/MRP), member 1 (ABCC1) and transcobalamin II (TCN2) likely related to the cobalamin transport process inhibition in MAT (Additional file 4). The inhibition of 'cobalamin (vitamin B12) metabolic process' in MAT could have been associated with low systemic vitamin B12 levels which would partly account for the activation of FA synthesis. However, the fact that the inhibition of 'cobalamin metabolic process' in MAT was associated with the vitamin B12 transporters ABCC1 [33] and TCN2 [34] seems to indicate that uptake of vitamin B12 by MAT could have been a more important factor. In ruminants, vitamin B12 is synthesized almost exclusively by ruminal bacteria [35] and is required for the metabolism of propionate and its derivative methylmalonic acid via the TCA cycle [36]. Methylmalonyl CoA is an inhibitor of fatty acid (FA) synthesis in adipose tissue, and it has been proposed that an accumulation of methylmalonic acid may reduce the rate of FA synthesis in ruminant adipose tissue [36].
Butanoate metabolism was activated in MAT due to the up-regulation of acyl-CoA synthetase medium-chain family member 1 (
ACSM1
) and hydroxyacyl-CoA dehydrogenase/3-ketoacyl-CoA thiolase/enoyl-CoA (
HADHA
), both genes with roles in fatty acid beta-oxidation. A greater impact was detected for
HADHA
due to its '3-hydroxyacyl-CoA dehydrogenase activity' (Fig.
3
and Additional file
4
). The up-regulation of
HADHA
and
ACSM1
in MAT suggests an activation of mitochondrial beta-oxidation of fatty acids [
37
]. This activation of fatty acid breakdown in MAT could represent a response of fat cells to control intracellular levels of fatty acids, which may have negative effects on tissue homeostasis [
38
].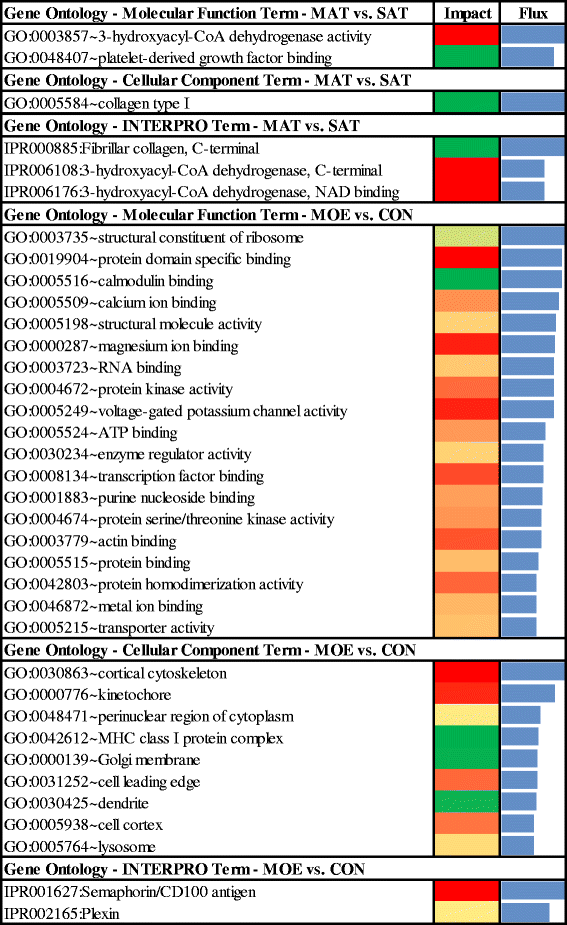 The 'proximal tubule bicarbonate reclamation' pathway also had a high impact due to the up-regulation of phosphoenolpyruvate carboxykinase 1 (PCK1) and glutamate dehydrogenase 1 (GLUD1) (Additional file 4). The up-regulation of GLUD1 in MAT (a transhydrogenase in the mitochondria) would allow for transfer of hydrogen from NADH produced in the mitochondrial malate dehydrogenase reaction to the NADP produced in the reversal of the mitochondrial isocitrate dehydrogenase step [36]. Furthermore, under lipogenic conditions, the up-regulation of PCK1 would be linked to synthesis of glycerol-3-phosphate for TAG synthesis through glyceroneogenesis [39]. Both of these responses in MAT compared with SAT support the view of greater lipogenic activity in the former.
In our study, 'Sphingolipid metabolism' had a slight inhibition in MAT due to down-regulation of N-acylsphingosine amidohydrolase (acid ceramidase) 1 (ASAH1), sialidase 1 (lysosomal sialidase) (NEU1) and sphingosine-1-phosphate lyase 1 (SGPL1) coupled with the up-regulation of sphingosine kinase 2 (SPHK2). These genes play a role in ceramide metabolism, lipid catabolism, fibroblast migration and blood vessel development (Additional file 4). Results from DIA analysis did not reveal a clear picture of what GO term was most impacted in this pathway because no significantly related GO terms had high impact values (Additional file 4). In these Holstein cows under positive energy balance, generation of ceramides in adipose tissue may contribute to inflammation due to the onset of insulin resistance and macrophage accumulation [40], which usually occur when adipocyte accretion exceeds the homeostatic mechanisms of the growing tissue, altering its normal function, due to an increase in fat accumulation. In overweight dairy cows in the transition period, ceramides have been proposed as a potential effectors in the pathological development of insulin resistance [41].
Sphingolipids contribute to the induction of secretion of pro-inflammatory proteins from adipose tissue which is associated to obesity [42]. Sphingolipid metabolism could be activated by several conditions including pro-inflammatory cytokines, growth factors and oxidative stress [43]. Thus, sphingolipids can be considered downstream effectors of obesity-induced inflammation [44]. In the obese adipose tissue, sphingolipid metabolism shifts towards the generation of sphingosine [42]. Not only sphingosine but ceramide and sphingosine-1-P (S1P) are involved in multiple signaling pathways that regulate many biological events including the pathogenesis of obesity. Increased ceramide production activates the pro-inflammatory transcription factor kappa-light-chain-enhancer of activated B cells (NF-κB) [45], which is an upstream regulator of the secretion of cytokines and chemokines [43]. Ceramide synthesis is mainly regulated by two enzymes: acid ceramidase (ASAH1) and ceramide synthase (CERS) [46]. Ceramide breakdown into sphingosine and a fatty acid occurs within lysosomes via the enzyme acid ceramidase (ASAH1).
Adiponectin (ADIPOQ) was highly up-regulated in MAT compared to SAT and seemed associated with several highly-impacted BP (Fig. 3 and Additional file 4). Although, in contrast to our previous DIA analysis in intramuscular fat of beef steers [47], ADIPOQ was not affected by diet [13]. Higher ADIPOQ activation in MAT compared with SAT could be taken as a sign of higher fat accumulation in MAT, i.e. fat accumulation and inflammation are linked in this depot.
Transcriptomic modifications in adipose induced by a high energy diet
Conclusions
The bioinformatics analysis of the transcriptome data from Holstein dairy cows indicated that the mesenteric fat compared with subcutaneous fat has a higher response to level of dietary energy. This was discerned from the activation of differentially expressed genes related to biologic processes including oxidative stress, mitochondrial beta-oxidation, lipogenesis, insulin resistance and macrophage accumulation, together with a greater degree of fat mass accumulation. The effect of chronic ad-libitum access to the high energy diet on adipose tissue was associated with a slight inflammatory response namely due to activation of sphingolipid metabolism. Based on previous work in non-ruminants, we speculate that changes in transcriptomics data pertaining to metabolic processes could translate to the protein level. Hence, they help understand the differences in adipose mass and the responses to high dietary energy reported in these non-pregnant, non-lactating Holstein dairy cows.
Abbreviations
ATP:

Adenosine triphosphate
BP:

Biological process
CC:

Cellular component
cDNA:

Complementary DNA
CON:

Control diet
DEG:

Differentially expressed genes
DIA:

Dynamic Impact Approach
DM:

Dry matter
DMI:

Dry matter intake
DNA:

Deoxyribonucleic acid
FA:

Fatty acid
FDR:

False discovery rate
GEO:

Gene Expression Omnibus
GO:

Gene Ontology
HIGH:

High energy diet
INTERPRO:

Interior of proteins
KEGG:

Kyoto Encyclopedia of Genes and Genomes
MAT:

Mesenteric adipose tissue
MF:

Molecular function
NCBI:

National Center for Biotechnology Information
qPCR:

quantitative PCR
RIN:

RNA integrity number
RNA:

Ribonucleic acid
RT-PCR:

Real time polymerase chain reaction
SAT:

Subcutaneous adipose tissue
SCC:

Saline-sodium citrate
SDS:

Sodium dodecyl sulfate
VAT:

Visceral adipose tissue
Declarations
Acknowledgments
Not applicable.
Availability of data and materials
The datasets during and/or analyzed during the current study are available from the corresponding author on reasonable request.
Authors' contributions
SJM performed bioinformatics analysis and wrote manuscript, PJ collected experimental data, performed laboratory analysis and wrote manuscript, JKD designed animal experiment, SLR statistical analysis of microarray data, and JJL designed microarray experiment and helped write manuscript. All authors read and approved the final manuscript.
Ethics approval
All procedures for this study (protocol no. 06194) were approved by the Institutional Animal Care and Use Committee of the University of Illinois.
Consent for publication
Not applicable.
Competing interests
There are no significant competing financial, professional or personal interests that might have influenced the performance or presentation of the work described in this manuscript.
Open AccessThis article is distributed under the terms of the Creative Commons Attribution 4.0 International License (http://creativecommons.org/licenses/by/4.0/), which permits unrestricted use, distribution, and reproduction in any medium, provided you give appropriate credit to the original author(s) and the source, provide a link to the Creative Commons license, and indicate if changes were made. The Creative Commons Public Domain Dedication waiver (http://creativecommons.org/publicdomain/zero/1.0/) applies to the data made available in this article, unless otherwise stated.
Authors' Affiliations
(1)
Department of Animal Sciences, Auburn University, Auburn, USA
(2)
Department of Animal Sciences, University of Illinois, Urbana, USA