Fetal and neonatal programming of postnatal growth and feed efficiency in swine
Journal of Animal Science and Biotechnology
2017
8:42
Received: 3 October 2016
Accepted: 18 April 2017
Published: 5 May 2017
Abstract
Maternal undernutrition or overnutrition during pregnancy alters organ structure, impairs prenatal and neonatal growth and development, and reduces feed efficiency for lean tissue gains in pigs. These adverse effects may be carried over to the next generation or beyond. This phenomenon of the transgenerational impacts is known as fetal programming, which is mediated by stable and heritable alterations of gene expression through covalent modifications of DNA and histones without changes in DNA sequences (namely, epigenetics). The mechanisms responsible for the epigenetic regulation of protein expression and functions include chromatin remodeling; DNA methylation (occurring at the 5´-position of cytosine residues within CpG dinucleotides); and histone modifications (acetylation, methylation, phosphorylation, and ubiquitination). Like maternal malnutrition, undernutrition during the neonatal period also reduces growth performance and feed efficiency (weight gain:feed intake; also known as weight-gain efficiency) in postweaning pigs by 5–10%, thereby increasing the days necessary to reach the market body-weight. Supplementing functional amino acids (e.g., arginine and glutamine) and vitamins (e.g., folate) play a key role in activating the mammalian target of rapamycin signaling and regulating the provision of methyl donors for DNA and protein methylation. Therefore, these nutrients are beneficial for the dietary treatment of metabolic disorders in offspring with intrauterine growth restriction or neonatal malnutrition. The mechanism-based strategies hold great promise for the improvement of the efficiency of pork production and the sustainability of the global swine industry.
Keywords
EpigeneticsFetal programmingGene expressionNeonatal programmingNutrition
Background
The gestational (114 d) and neonatal (21 d after birth) periods are two critical phases in swine production [1]. Among livestock mammals, pigs exhibit the highest rates of embryonic mortality, intrauterine growth restriction (IUGR), and neonatal deaths [2–4]. These problems are exacerbated by a variety of factors encountered in the different phases of swine production, including extreme ranges of environmental temperatures, feed hygiene and safety, suboptimal nutrition, and disease [5]. When adverse conditions occur during gestation or nursing, the negative impacts on the offspring can last for their entire life cycle and can be carried over to the next generation or beyond [6]. This concept is called fetal or neonatal programming [7], which involves the covalent modifications of nucleotide bases in DNAs without changes in their sequences [8–10]. Thus, the global swine industry must overcome enormous challenges to achieve a high efficiency of pork production and high economic returns. One approach is to optimize the nutrition of the mothers and neonates [6, 11]. The main objective of this article is to highlight and integrate the complex aspects of swine biological characteristics, IUGR, as well as the fetal and neonatal programming of postnatal growth and feed efficiency (weight gain:feed intake) in pigs.
Unique biological characteristics of swine relevant to nutrition
Embryos, fetuses, and neonates of all species are very sensitive to the detrimental effects of high ammonia concentrations in their plasma [
10
]. Adequate knowledge of the biology of swine is essential to understanding their nutrition and developing effective methods for improving their growth and survival. Pigs have some distinct biological characteristics that are very different from other livestock species (Fig.
1
). These features should be considered in dietary formulations and managements of both normal-birth weight and IUGR piglets.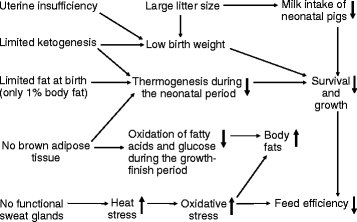 First, the pig has no brown adipose tissue (BAT) in its life cycle to oxidize long-chain fatty acids and glucose [12]. Thus, there is no production of non-shivering heat in neonatal pigs, therefore contributing to the development of hypothermia and high rates of mortality in them, particularly in IUGR piglets which have a higher risk for metabolic disorders (including hypoglycemia) than normal-birth weight piglets [1]. On the other hand, the dam gains excessive amounts of maternal subcutaneous white adipose tissue (WAT) during pregnancy when fed either ad libitum or >50% of ad libitum feed intake [13]. While this metabolic arrangement may be beneficial for conserving maternal fat reserves in the face of limited food intake during species evolution, the adverse impacts of such a maternal adaptation mechanism include a high rate of embryonic/fetal mortality during early gestation [14]. In addition, sows with excess WAT exhibit impaired lactation performance post-partum [1]. Therefore, in the modern swine industry, gestating gilts are fed only a 2 to 2.2 kg diet (containing 12% CP) daily, which is only ~50% of their ad libitum feed intake, to minimize maternal WAT accretion. Clearly, this is a case of underfeeding in nutritional terms. The production-imposed reduction in the feed intake of pregnant gilts results in the inadequate provision of amino acids (AAs) in the gestation diets, thereby impairing fetal-pig growth and development [15]. Three of four nutritionally important AAs are L-arginine, L-glutamine, glycine, and L-proline for gestating gilts [1]. Thus, the unique characteristics of fat metabolism in swine limit their dietary intakes of energy and AAs during the entire period of pregnancy, therefore increasing the risk for IUGR and negatively impacting the vigor, survival, growth and feed efficiency of postnatal pigs.
Second, pigs have limited ketogenesis (the production of acetoacetate and β-hydroxybutyrate from fatty acids) at any developmental stage due to their low expression of hepatic 3-hydroxy-3-methylglutaryl-CoA (HMG-CoA) synthase [16, 17]. Thus, pigs have very low concentrations of ketone bodies (<0.2 mmol/L) in plasma under either fed or food-deprived conditions. Although acetoacetate and β-hydroxybutyrate are actively utilized for ATP production by extra-hepatic tissues, such as the brain, skeletal muscle, heart, kidneys, and small intestine in mammals (including pigs) [18], the endogenously-generated ketone bodies only contribute a negligible amount of energy for swine. Consequently, in response to fasting or infections, when the concentration of glucose in plasma is substantially reduced, this sugar can only supply ~ 40% of the energy normally required by the brain [19]. This leads to impairments in neurological function and animal behavior, as well as increases in the rates of morbidity and mortality in pigs, particularly during the neonatal period [18]. When piglets die, their feed efficiency is zero.
Third, fetal pigs have a limited synthesis of fatty acids and triacylglycerols (TAG) [20]. Thus, at birth, the piglet has only 1% lipids in its body [21], which is in contrast to many other mammalian newborns (e.g., humans and cattle), which possess 10% or more fats [22]. The exceedingly small amount of endogenous lipids limits ATP production from these nutrients in neonatal pigs, leading to the use of glucose and AAs as the major metabolic fuels. This, along with the near absence of ketogenesis, readily results in hypoglycemia and the reduced availability of AAs for protein synthesis, particularly when milk intake is insufficient [23]. Additionally, because subcutaneous fats can be used for insulation, the limited amount of fats in newborn pigs further increases the risk for hypothermia and, therefore, mortality in them, especially in a cold environment [14]. Deaths of preweaning piglets will result in no feed value for sows. The ability to synthesize TAG (occurring primarily in WAT) rapidly develops in well-fed piglets after birth, which results in a body-lipid content of 14% at 2 weeks of age [24]. Compared with pigs with a normal birth weight, surviving IUGR pigs have a greater capacity for TAG deposition in the body during the growing-finishing period and, therefore, exhibit a lower feed efficiency and lower quality pork [14].
Fourth, pigs possess no functional sweat glands and, therefore, must use the inadequate mechanism of panting to dissipate heat [25]. Thus, growing-finishing, gestating or lactating swine are highly susceptible to heat stress, as well as the associated oxidative stress, resulting in an excessive production of reactive oxygen species [26, 27]. Under experimental conditions, increasing environmental temperatures from 23 °C to 33 °C markedly reduces feed intake, growth performance, and the efficiency of nutrient utilization for weight gains in swine [28–30], and, at the same time, impairs immune responses [31] and muscle protein synthesis [32]. Interestingly, the pig's breed does not influence physiological responses to thermal stress [33, 34]. Thus, pigs raised in naturally warm areas exhibit poor production performance, including low daily weight gain [35], low protein deposition in muscle [36], poor lactation, and low litter size [37]. To date, a climate change towards global warming is expected to negatively impact swine production. Mader et al. [37] estimated that, with CO2 doubling and tripling, the time necessary for raising pigs from 50 to 110 kg in warm seasons would be increased by up to 30% and 74%, respectively, in the southernmost regions of the U.S. The lack of sweat glands in swine presents a challenge to design nutritional means for improving feed efficiency in growing pigs, particularly in IUGR pigs raised at high ambient temperatures.
Intrauterine Growth Restriction (IUGR) in swine
IUGR is defined as impaired growth and development of the mammalian embryo/fetus or its organs during pregnancy [14]. In animal studies, IUGR is identified as fetal or birth weight less than two standard deviations of the mean body weight for gestational age. For crossbred sows (Yorkshire × Landrace dams and Duroc × Hampshire boars), the mean birth weight is 1.4 kg, and a piglet with a birth weight of less than 1.1 kg can be considered to have IUGR. Despite advances in nutrition and management techniques, IUGR remains a significant problem in swine production [3, 4]. Before d 35 of gestation, porcine embryos are uniformly distributed within each uterine horn. After this time in gestation, uterine capacity becomes a limiting factor for fetal growth even though the fetuses are distributed relatively uniformly [38]. Additionally, the proportion of low birth weight pigs at farrowing has increased in recent years due to the successful genetic selection for increased litter size, which results in increased uterine crowding and the associated decrease in placental weight per fetus [3, 39]. Approximately 24% of newborn piglets from gilts fed a 12%-CP diet have a birth weight of < 1.1 kg [5]. In some litters, most or nearly all of the piglets have reduced birth weights (<1.1 kg), particularly when a part or majority of the pregnancy period is subjected to environmental stress (e.g., hot or cold temperatures or infections) [40]. At birth, runt piglets may weigh only one-half or even one-third as much as their largest littermates, and key organs involved in nutrient digestion and utilization in runt pigs are disproportionately smaller than those of the larger littermates [41]. Thus, a major goal of feeding is to enhance piglet birth weight and reduce its variation within litters [39].
Most IUGR piglets die before weaning, and IUGR piglets (<1.10-kg birth weights) account for 76% of preweaning deaths in pigs [5]. IUGR has permanent negative impacts on organ structure, neonatal adjustment, preweaning survival, postnatal growth, feed efficiency, lifetime health, skeletal-muscle composition, excessive accumulation of WAT, meat quality, reproductive performance, and the onset of adult diseases [14, 42]. Altered organ mass and structure, such as reduced numbers of pancreatic islets, reduced numbers of kidney glomeruli, or reduced numbers of muscle fibers, is one of the consequences of fetal programming and is equally important to functional consequences. At present, farms will cull all IUGR piglets, and there is no nutritional support to increase their growth or survival during the suckling and postweaning periods [39]. Thus, although IUGR may be considered to be a natural mechanism to protect the dam in case of maternal undernutrition, it has adverse effects on the survival and growth performance of the progeny and the efficiency of pig production [43].
Factors contributing to IUGR in swine
Genetic (maternal and paternal), epigenetic, and environmental factors (including nutrition, ambient temperature, social stress and disease), as well as maternal maturity are all factors which affect fetal growth [
9
]. These factors also have an impact on the size and functional capacity of the placenta, placental vascular growth, uteroplacental blood flows, the transfer of nutrients from mother to fetus, the endocrine milieu, as well as embryonic and fetal development of myocytes, adipocytes and other cell types (Fig.
2
). In a given breed, nutrition (low or high intake of dietary CP), disease, and environmental temperature are the three major determinants of IUGR [
2
]. Of particular note, porcine fetal growth can be negatively influenced by a severe maternal protein-energy imbalance during pregnancy [
44
]. Malnutrition during early gestation has a greater detrimental effect on fetal organ development than during mid- or late gestation [
10
].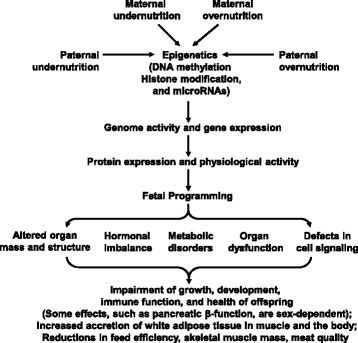 Maternal undernutrition and IUGR
Maternal overnutrition and IUGR
Overnutrition before breeding or during the periconceptual period
Increasing energy intake increases the rate of ovulation in farm animals, including pigs [
43
]. Thus, the practice of increasing feed intake for a short period of time (termed flushing) around the time of conception was employed previously by producers in an attempt to increase the number of embryos/fetuses [
55
]. The practice of flushing is no longer recommended for swine producers because of concern over embryonic death [
3
,
4
]. Overnutrition of gilts and sows can result from an increased intake of energy, protein, or both, which can occur before breeding or during pregnancy. Much evidence shows that high energy intake immediately before pregnancy and/or during early gestation increases embryonic mortality and reduces embryonic growth in swine [
43
,
55
]. Similar results have been reported for gilts or sows consuming high amounts of dietary protein or a combination of high energy plus high protein either immediately before breeding or during early gestation [
43
,
48
]. Disappointingly, to date, gestating gilts and sows are still frequently fed, on many commercial farms, relatively high-protein diets (e.g., 14% to 18% CP) throughout pregnancy. A diet containing 14% CP for feeding pregnant swine during the entire period of gestation is still currently used on some farms [
58
] and is also recommended by some extension agents [
59
], but such a gestation diet is not optimum for porcine embryonic survival (Table
1
). This is because the adverse effects of high levels of plasma ammonia resulting from high protein intake on conceptus survival and growth have not yet been fully recognized by swine producers. Compared with a 12%-CP diet, feeding a higher-protein diet reduced the number of live piglets born per litter and the number of piglets weaned per litter (Table
1
). Likewise, a lower-protein diet (10% CP) is not optimal for pregnancy outcomes in gilts, due to the inadequate provision of AAs.
Table 1
Concentrations of amino acids (AAs) and metabolites in maternal plasma and reproductive performance of gestating gilts fed diets supplemented with 10–16% crude protein (CP)1
Variable

10% CP

12% CP

14% CP

16% CP

Pooled SEM

Concentrations of AAs and metabolites in maternal plasma

 Arginine, μmol/L

189d

204c

221b

238a

3.5

 Cystine + cysteine, μmol/L

234d

268c

291b

314a

4.2

 Glutamate, μmol/L

85

89

92

94

2.6

 Glutamine, μmol/L

352d

378c

395b

417a

5.4

 Glycine, μmol/L

608d

631c

662b

698a

7.3

 Leucine, μmol/L

144d

162c

189b

208a

4.0

 Lysine, μmol/L

112d

131c

150b

174a

2.8

 Methionine, μmol/L

36d

43c

55b

62a

1.5

 Ornithine, μmol/L

64d

78c

92b

116a

2.4

 Proline, μmol/L

240d

276c

304b

345a

5.6

 Serine, μmol/L

146d

163c

185b

207a

2.9

 Tryptophan, μmol/L

41d

53c

64b

77a

1.1

 Ammonia, μmol/L

56d

70c

81b

93a

1.7

 Urea, mmol/L

1.67d

2.02c

2.46b

2.88a

0.061

Reproductive performance of gilts

 Total piglets born per litter, n

10.72

10.98

10.83

10.76

0.089

 Total piglets born alive per litter, n

9.62bc

9.95a

9.74b

9.48c

0.067

 Average birth weight of all piglets born, kg

1.33

1.36

1.35

1.34

0.012

 Average birth weight of all piglets born alive, kg

1.34

1.37

1.36

1.35

0.011

 Total litter weight at birth for all piglets born, kg

14.2b

14.8a

14.5ab

14.3b

0.14

 Total litter weight at birth for all live piglets, kg

12.7c

13.5a

13.1b

12.6c

0.11

 Piglets born dead per litter, n

1.10b

1.03b

1.09b

1.28a

0.048

 Variations in birth weights among all piglets born,2%

18.3a

17.1b

18.1a

18.7a

0.30

 Variation in birth weights among all piglets born alive,2%

16.1a

15.0b

16.4a

16.8a

0.28

Survival and growth of live-born piglets before weaning

 Milk intake of sow-reared piglets,3 mL/kg BW per day

179

184

186

180

7.4

 Total piglets weaned per litter, n

8.46c

9.04a

8.76b

8.53c

0.053

 Total litter weight at weaning (21 days of age), kg

45.2c

49.0a

47.3b

46.0c

0.36
Negative impacts of maternal overnutrition during gestation on lactation and fetal growth
Increased feed intake by sows during all or part of gestation has a negative effect on feed intake during lactation [13]. In multiparous sows, increasing dietary intakes of both protein and energy by 43% during the first 50 days of gestation, relative to a standard gestational diet (10.7 MJ of DE/kg and 12.0% CP), decreases the birth weights of the 2 lightest and 2 heaviest piglets in litters [60]. Although overfeeding both energy and protein between d 25 and d 50 of gestation has no beneficial effect on muscle fiber number in the offspring, this nutritional treatment reduces the skeletal-muscle weight of newborn piglets due to a smaller fiber size [61]. However, the high intake of dietary protein during the whole pregnancy period decreases the number of muscle fibers at birth in pigs [54]. Furthermore, overfeeding gilts by 40% of the NRC requirements [62] during the entire gestation impairs fetal development and postnatal survival [13]. Thus, overfeeding during all or part of the gestational stage has a detrimental effect on pregnancy outcomes in swine and must be avoided in feeding practices.
Impacts of IUGR on pig production
Effects of IUGR on growth performance and feed efficiency in postnatal offspring
Lean-tissue growth results primarily from protein accretion in skeletal muscle, whereas fat deposition in pigs occurs mainly in WAT. Therefore, it is important to understand the developmental biology of these two tissues. Myocytes and adipocytes are derived from a common mesenchymal precursor [
63
]. Therefore, excess amounts of WAT are developed at the expense of skeletal muscle when embryonic myogenesis is impaired [
64
]. There are two developing muscle fibers in fetal pigs (Table
2
): 1) primary fibers, formed by the rapid fusion of primary myoblasts between d 25 and d 50 of gestation, and 2) secondary fibers, formed on the surface of primary fibers between d 50 and d 90 of gestation [
65
]. The stages of their fetal and postnatal development are summarized in Table
2
. The numbers of secondary muscle fibers, but not primary muscle fibers, are affected by the uterine environment [
66
,
67
]. Likewise, IUGR influences the expression of proteome in fetal skeletal muscle [
67
]. Because the total number of muscle fibers is fixed at birth, their prenatal development is a major factor regulating the postnatal growth of offspring [
61
].
Table 2
Stages of the fetal and postnatal development of porcine skeletal muscle
| Stage | Days of gestation | Major events |
| --- | --- | --- |
| 1 | From conception to 25 d of gestation | Embryonic myogenesis from a common mesenchymal precursor |
| 2 | From 25 to 50 d of gestation | Formation of primary muscle fibers (rapid fusion of primary myoblasts) |
| 3 | From 50 to 90 d of gestation | Formation of secondary muscle fibers (formed on the surface of primary fibers) |
| 4 | From 90 to 95 d of gestation | Establishment of muscle fiber numbers |
| 5 | d 114 of gestation | Total numbers of muscle fibers are fixed at birth |
| 6 | After birth | Growth of skeletal muscle by increasing the size of its fibers (hypertrophy)a; and maturation of skeletal muscle |
As noted previously [42, 67], the total number of skeletal muscle fibers at birth is lower in IUGR newborn pigs than in their littermates with a normal birth weight. This limits the extent of compensatory growth in these offspring [68]. Thus, there are differences in prenatal and postnatal growth rates between IUGR piglets and normal litter mates, which correlate with a lower ratio of secondary to primary muscle fibers and a smaller size of the fibers in IUGR pigs [65]. Reduced protein deposition in skeletal muscle and increased fat accretion in IUGR fetuses or offspring result from the abnormal metabolic regulation of intracellular protein turnover, adipogenesis, and mitochondrial biogenesis [5]. Consistent with this notion, the results of proteomic analysis have shown that newborn IUGR piglets have a greater abundance of proteasome (a complex of proteolytic enzymes for nonlysosomal protein degradation) in skeletal muscle and liver, but less eukaryotic translation initiation factor-3 (a key requirement for protein synthesis) in skeletal muscle, compared to piglets with a normal birth weight [41]. Consequently, when compared to piglets with a normal birth-weight, IUGR piglets exhibit 5–10% lower rates of daily weight gain and 5–10% lower feed efficiency (weight gain:feed intake) during the preweaning period [68–71].
The impact of birth weight on BW growth decreases as age increases (Table
3
). This can be explained, in part, by increased fat accretion with age in both IUGR and normal-birth-weight pigs. The conversion of dietary fat to TAG in the body, which is associated with no water retention in tissues, confers a lower feed efficiency (weight gain/feed intake) than the conversion of dietary protein into protein in pig muscle. Low feed efficiency in IUGR piglets may result from not only less skeletal-muscle fibers but also suboptimal mitochondrial function in skeletal muscle [
72
], as well as the impaired development of the small intestine for nutrient digestion and absorption [
73
]. Thus, in assessing the effects of IUGR on feed efficiency for lean-tissue gains, the proportions of skeletal muscle and WAT, rather than changes in body weight alone, should be determined.
Table 3
Impacts of IUGR on growth and feed efficiency decrease with increasing age in pigs
Body weight

Total variance in ADG accounted for by BBW

Difference in ADG between IUGR pigs (1-kg BBW) and and large-birth-weight pigs (2-kg BBW)

Daily feed intake

Difference in gain: feed ratio between IUGR pigs (1-kg BBW) and large-birth-weight pigs (2-kg BBW)

Gilts

Barrows

Both sexes

IUGR pigs with 1-kg BBW

Large-birth weight pigs with 2-kg BBW

Gilts

Barrows

Both sexes

kg

%

g/d

kg/d

(kg/kg)

46.7

12–13

83.4

81.4

82.4

1.62

1.63

0.051

0.050

0.050

64.6 kg

8–9

72.9

69.7

71.3

2.02

2.05

0.036

0.034

0.035

83.5 kg

4.7–5.3

39.7

53.0

46.4

2.30

2.34

0.017

0.023

0.020

102.5 kg

2.0–2.4

41.8

44.3

43.1

2.47

2.52

0.017

0.018

0.017
Without any effective nutritional interventions, IUGR piglets will not be able to achieve catch-up growth at an absolute rate comparable to that of age-matched piglets with a normal birth weight either before or after weaning [69, 74]. For example, a difference of 0.31 kg in birth weight (1.04 vs. 1.35 kg) or of 0.8 kg in body weight at weaning (21 d of age) translates into an average difference of 4.4 days (159.3 vs. 154.9 d) from birth to the same market weight of 120 kg [74]. When muscle protein synthesis is reduced, dietary energy can be partitioned toward fat deposition within skeletal muscle and the WAT. In support of this view, the fat content of market-weight carcasses from runt pigs is increased, compared with their large littermates [70]. However, the carcass composition or the final eating quality of the pork may not differ substantially among pigs with a birth weight of 0.8 and 2.5 kg when they are fed adequately and slaughtered at the same 120-kg market weight [74].
IUGR and reproduction performance of offspring
Smaller female pigs have a smaller uterus and less uterine secretion than larger female pigs [38, 75]. Insufficient uterine capacity in size and function limits placental attachment and growth within the uterus, thereby reducing nutrient and gas exchange between the mother and her fetuses [14]. In addition, when compared to female pigs with a normal birth weight, those with IUGR exhibit a delay or failure to express estrus, conceive or farrow, as well as reduced preweaning and postweaning growth performance in affected offspring [3]. Such adverse effects of IUGR can be carried for up to three generations [3]. There is also evidence that IUGR delays fetal follicular development of the ovaries, as well as the onset of puberty in postnatal life, in comparison to pigs with a normal birth weight [76]. Furthermore, stressing pregnant sows daily between weeks 12 and 16 of gestation (5 min of restraint daily) delays the first estrus of the female offspring, compared to the offspring of the control, non-stressed sows (172 vs. 158 d of age) [77]. Similarly, in gilts, the age at puberty was negatively correlated with birth weight ranging from 1.13 to 1.98 kg [78]. Results of published studies have also indicated that the timing of under-nutrition during gestation has important effects on the development of the fetal reproductive system (e.g., hypothalamus, pituitary, and gonads) [79].
There is indirect evidence that neonatal nutrition affects subsequent reproductive function in pigs [55]. For example, gilts which were raised in litters of six pigs (6 piglets/litter) prior to weaning had more corpora lutea (an indication of ovulation rate) and more embryos at d 25 of gestation than gilts which were raised in litters of 12 piglets (12 piglets/litter) [80]. Likewise, boars raised in litters of six or less piglets (≤6 piglets/litter) reached puberty sooner and produced more sperm per ejaculate, compared with boars raised in litters of nine or more piglets (≥9 piglets/litter) [81]. Furthermore, Estienne and Harper [82] reported that adult boars with a birth weight of < 1.36 kg had lower sperm concentrations and less total sperm per ejaculate than adult boars with a birth weight of > 1.86 kg, suggesting that birth weight is also a determinant of reproductive potential in males. Collectively, impaired fetal or preweaning growth may result in suboptimal reproductive performance in both female and male swine.
Fetal and neonatal programming of growth, development and feed efficiency
Postnatal survival and growth
Enterocytes are responsible for the endogenous synthesis of arginine in pigs [24] and, therefore, are critical for maximal growth of piglets and ammonia detoxification via the liver [1]. However, the development of the small intestine is compromised in IUGR pigs [73]. Thus, improving the integrity and function of the gut is an effective means to ameliorate neonatal death and growth restriction in IUGR offspring. For example, oral administration of glutamine (0.5 g/kg of BW twice daily; 1 g/kg of BW per day) between d 0 and d 21 of age enhances the growth of IUGR piglets by 16% while reducing their preweaning mortality by 48% [120]. Additionally, concentrations of ammonia in the plasma are 19% lower in the glutamine-supplemented IUGR piglets than in the control group [120], indicating that glutamine stimulates whole-body protein synthesis and inhibits whole-body AA oxidation. These findings have important implications for the nutritional management of compromised young pigs [125], improvement in the utilization of dietary protein for lean tissue growth [126], and the sustainability of global pork production [127]. While leucine supplementation can enhance intestinal development and growth, as well as whole-body growth in piglets with a normal birth weight [128], this method has a detrimental effect in IUGR piglets for yet unknown reasons [129]. Thus, the mechanisms responsible for the high rate of mortality in IUGR pigs should be further elucidated so that effective means will be developed to save their lives and enhance their productivity.
Conclusion
In summary, a large body of evidence shows that maternal under- or over-nutrition and other environmental stresses immediately before breeding or during pregnancy (particularly early gestation) negatively influence the metabolism, growth and development of the porcine fetus, as well as numerous metabolic pathways, feed efficiency, and the disease susceptibility of the affected offspring. The underlying mechanisms involve the epigenetic regulation of gene expression, key transcription factors, protein abundance and activity, and multiple signaling pathways. Nutritional interventions involving dietary supplementation with functional AAs (e.g., arginine and glutamine) or possibly certain vitamins (e.g., folate) related to one-carbon metabolism and the provision of methyl groups can help overcome the adverse effects of maternal fetal and neonatal programming on the growth performance, feed efficiency, and well-being of IUGR offspring. Optimal AA nutrition has great promise to improve fetal growth, development, and survival not only through cell signaling but also via the epigenetic regulation of protein expression and functions.
Declarations
Acknowledgments
We thank our colleagues for collaboration on nutrition and reproduction research.
Funding
This research was supported by the National Basic Research Program of China (2013CB127302), the National Natural Science Foundation of China (31272450 and 31572412), Competitive Grants from the Animal Reproduction Program (no. 2014-67015-21770) and Animal Growth & Nutrient Utilization Programs (no. 2015-67015-23276) of the USDA National Institute of Food and Agriculture, and Texas A&M AgriLife Research (H-8200).
Availability of data and materials
Not applicable.
Authors' contributions
GW conceived this project. YI, ZLW, ZLD, and GW wrote the manuscript. XLW, JL, and BGW contributed to the discussion and revision of the article. GW had the primary responsibility for the content of the paper. All authors read and approved this manuscript.
Competing interests
The authors declare that they have no competing interests.
Consent for publication
All authors read and approved the final manuscript.
Ethics approval
Animal work in our laboratories which was reviewed in this article was approved by China Agricultural University and Texas A&M University Animal Care and Use Committee.
Open AccessThis article is distributed under the terms of the Creative Commons Attribution 4.0 International License (http://creativecommons.org/licenses/by/4.0/), which permits unrestricted use, distribution, and reproduction in any medium, provided you give appropriate credit to the original author(s) and the source, provide a link to the Creative Commons license, and indicate if changes were made. The Creative Commons Public Domain Dedication waiver (http://creativecommons.org/publicdomain/zero/1.0/) applies to the data made available in this article, unless otherwise stated.
Authors' Affiliations
(1)
State Key Laboratory of Animal Nutrition, China Agricultural University, Beijing, China
(2)
Henan Yinfa Animal Husbandry Co., Ltd., Xinzheng, China
(3)
Department of Animal Science and Center for Animal Genomics, Texas A&M University, College Station, USA