The development and role of microbial-host interactions in gut mucosal immune development
Journal of Animal Science and Biotechnology
2017
8:12
Received: 7 July 2016
Accepted: 23 December 2016
Published: 26 January 2017
Abstract
At birth the piglet's immune system is immature and it is dependent upon passive maternal protection until weaning. The piglet's mucosal immune system develops over the first few weeks but has not reached maturity at weaning ages which are common on commercial farms. At weaning piglets are presented with a vast and diverse range of microbial and dietary/environmental antigens. Their ability to distinguish between antigens and mount a protective response to potential pathogens and to develop tolerance to dietary antigens is critical to their survival and failure to do so is reflected in the high incidence of morbidity and mortality in the post-weaning period. A growing recognition that the widespread use of antibiotics to control infection during this critical period should be controlled has led to detailed studies of those factors which drive the development of the mucosal immune system, the role of gut microbiota in driving this process, the origin of the bacteria that colonise the young piglet's intestine and the impact of rearing environment. This review briefly describes how the mucosal immune system is equipped to respond "appropriately" to antigenic challenge and the programmed sequence by which it develops. The results of studies on the critical interplay between the host immune system and gut microbiota are discussed along with the effects of rearing environment. By comparing these with results from human studies on the development of allergies in children, an approach to promote an earlier maturation of the piglet immune system to resist the challenges of weaning are outlined.
Keywords
Gut microbiotaIntestineMucosal immune developmentPigRearing environment
Background
The mucosal immune system that is associated with the gastrointestinal tract is essential both for protection from enteric infection and for many of the other physiological roles required of the gut for the maintenance of health and development. The gastrointestinal tract is a major interface between a host and it's environment and whilst the epithelial layers of other interfaces, such as the skin, are well suited to prevent the absorption of harmful antigens, the gut is highly specialised for digestion and the absorption of nutrients. Although a recent study has calculated that the mean total mucosal surface of the digestive tract averages 32 m2 in man [1], approximately ten fold less than earlier estimates, it provides an interface that is ideal for a nutritional role but less so for preventing the entry of potential pathogens or their products. The gut mucosal environment is complicated by both the magnitude of challenge and the complex array of antigens that are presented and the immune system that is associated with the gastrointestinal tract is required to recognise these different groups of antigens and respond "appropriately". For example in the human intestine the microbial component including luminal or mucosal-associated bacteria is composed of 6–10 phyla and approximately 5,000 different species [2]. The density of luminal bacteria increases along the gastrointestinal tract, reaching up to 1012 per gram of mucus in the colon. Perhaps not surprisingly within this vast microbial population are both commensals (which play an important role in host defence and drive immune development) and potential pathogens. The gut mucosal immune system is therefore required not only to distinguish between microbial and dietary antigens, but also between commensal and potentially pathogenic organisms.
There is a considerable body of evidence that the immune system of neonates is functionally different from that of adults [3–6]. The young animal is then highly dependent upon maternal passively derived immunity for their survival through this vulnerable "learning" period [7, 8]. There are a number of factors that drive the development of the mucosal immune system including maternally-derived antigen and antibody [5], maternal environment, host genotype, diet and the gut microbiome [9]. This developmental process is of pivotal importance and it has been reported that stress associated with early weaning of piglets (16–18 d) leads to an impaired innate mucosal immune response and increased susceptibility to challenge with enterotoxigenic E. coli challenge compared with those weaned at 20 d [10]. Interestingly it has been shown in adult rodents that social stress can also alter the intestinal microbiota community structure [11]. In species of agricultural importance such as the pig, antimicrobials are widely used to compensate for the piglets immature immune system, in order to control enteric infections. The widespread use of antimicrobials is now a major concern both in terms of the rapid increase in the spread of resistance to many antibiotics [12] and also in pollution of the environment with heavy metals [13]. The aim of this review is then to briefly discuss the structure and function of the adult gut mucosal immune system, the process of development of mucosal immunity in the young animal, and, in an agricultural context, factors that may drive/speed up this development process. With apologies to those who study "other species" much data summarised in this article will be based upon studies carried out in the pig.
Conclusions
There is then clear evidence that at birth the mucosal immune system of piglets is immature, with maturation occurring over the first few weeks of life following a programmed sequence. At this time the piglet is highly dependent for protection from infection upon maternal colostrum and milk. Following weaning the piglet's mucosal immune system is required to recognise and respond appropriately to both potential pathogens (to prevent fatal infectious diseases) and "harmless dietary and environmental antigens" (to avoid damaging allergic reactions). Commercially most piglets are weaned at an age when their mucosal immune system is not fully mature, underling the high morbidity and mortality resulting from post-weaning diarrhoea. Several years ago we hypothesised that an aberrant immune responses to antigens in the post-weaning diet might predispose to enteric bacterial infection and diarrhoea in the post-weaning period [
41
]. The sow to piglet interaction is pivotal to the development of the piglet's immune system and occurs at multiple levels [
71
]. As discussed earlier host genetic factors are important in mucosal immune development but the sow also provides her offspring with antigen and antibody via colostrum (and milk) [
34
] and gut microbiota [
58
,
59
] (Fig.
1
). The importance of mode of maternal delivery and rearing environment have been similarly shown in studies of human infants [
56
,
65
]. During the first few days of life the piglets' ability to absorb dietary antigens and mount an immune response changes [
72
], and this response can be modulated the co-administration of specific antibody [
73
]. Further studies to refine this approach may provide a way to stimulate beneficial responses to dietary/environmental challenges in the post weaning period. Similarly given the pivotal role that the gut microbiota play in driving mucosal immune development and the importance of maternal microbiota, refined by environmental factors, in colonising the suckling infants gut, it might be possible to optimise the transfer of selected bacterial populations through microbial colonisation and immunisation of pregnant sows during the later stages gestation and early lactation [
74
].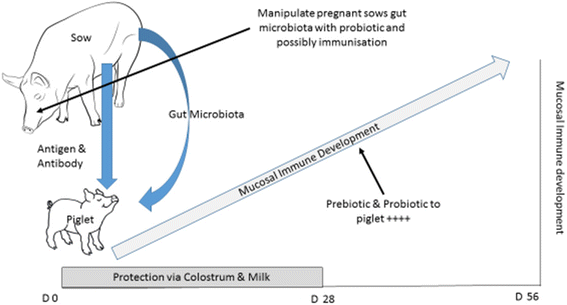 The reduced requirement for anti-microbials in the post-weaning period would have a major public health benefit.
Abbreviations
APC:

Antigen presenting cell
CARDS:

Caspase recruitment domains
CD:

Cluster of differentiation
C-section:

Cesarean section
DGGE:

Denaturing gradient gel electrophoresis
HEPA:

High-efficiency particulate arrestance
IEL:

Intraepithelial lymphocyte
Ig:

Immunoglobulin
IL-:

Interleukin
LPS:

Lipopolysaccharide
LRRs:

Leucine-rich repeats
MAdCAM-1:

Mucosal cell addressin molecule-1
MAPK:

Mitogen-activated protein kinase
M-cell:

Microfold cell
MDP:

Muramyl dipeptide
MHC:

Major histocompatibility complex
MIL:

Mucosal immunology Langford
NBD:

Nucleotide binding domain
NLRs:

Nucleotide-binding oligomerisation domain (NOD)-like receptors
NOD:

Nucleotide-binding oligomerisation domain
PAMPs:

Pathogen-associated molecular patterns
PCA:

Principal component analysis
pIgR:

Polymeric immunogloblin receptor
PRRs:

Pattern recognition receptors
SPF:

Specific pathogen free
T-cell:

Thymus derived cell
TIR:

Toll/interleukin (IL)-1 receptor
TLRs:

Toll-like receptors
T-regs:

Foxp3+ regulatory T cells.
Declarations
Acknowledgements
The authors express their appreciation to various colleagues at the University of Bristol and national and international collaborators who have shared their knowledge and ideas over the many years that have led up to this review.
Funding
This work was supported by grants from the EU, Defra & BBSRC.
Availability of data and materials
This review brings together data from a large number of peer reviewed publications and it is therefore not possible to share any additional data.
Authors' contributions
This manuscript was prepared by the corresponding author based upon experimental studies and joint publications carried out with Prof M Bailey, Dr M Lewis & Dr Z Christoforidou.
Competing interests
The author declares that he has no competing interests.
Consent for publication
Not applicable.
Ethics approval
All animal studies were carried out under the UK Animal Scientific Procedures Act 1986.
Open AccessThis article is distributed under the terms of the Creative Commons Attribution 4.0 International License (http://creativecommons.org/licenses/by/4.0/), which permits unrestricted use, distribution, and reproduction in any medium, provided you give appropriate credit to the original author(s) and the source, provide a link to the Creative Commons license, and indicate if changes were made. The Creative Commons Public Domain Dedication waiver (http://creativecommons.org/publicdomain/zero/1.0/) applies to the data made available in this article, unless otherwise stated.
Authors' Affiliations
(1)
School of Clinical Veterinary Science, University of Bristol, Nr Bristol, UK